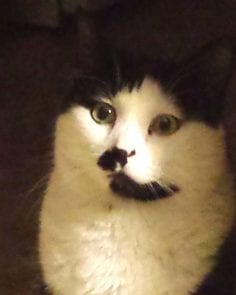 In his lifetime, this beautiful white and black domestic shorthair has had enough names for an entire litter of kittens!
When he came into the care of the BC SPCA Kamloops Branch, he was named Leonardo, then was given a form of the acronym SPCA, Soda Pop Castiel Andrew, which was shortened to the name his forever family call him now–Soda Pop.
Below is an update from the family who adopted Soda Pop, now a happily homed adult.
Soda Pop (aka Poppy) was just a tiny kitten at the time of his adoption.
He came to us after our previous male cat passed away. We decided to look into getting another cat because our female, Pinky, was missing the company of her older brother.
At the time his name was Leonardo and he was the runt of the litter. The ladies at the BC SPCA Kamloops Branch really loved him and found it hard to part with him.

He is a very skittish cat who doesn't appreciate strangers, loud sounds (like the door bell ringing) or fast movements. So to help him with his fears we made our bedroom his safe room where he could run and hide from things he doesn't appreciate.
He is a very big boy now who enjoys boxes, catnip, playing with toys, pestering our older female, getting brushed, treats and giving kisses when he wants us to let him go.
He really despises human food, getting his teeth brushed and receiving hairball medicine.
He makes me smile and laugh every day with his silly attitude and HUGE eyes.

We see what you mean about the big eyes.
It sounds like you really understand what this boy needs to feel safe and comfortable. You've made him a valued member of a good and loving family. Thank you for choosing to adopt.