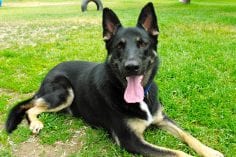 It can take a couple of tries to find the right fit for a dog with such high energy and intelligence, that she wears out her human companions. Willow was surrendered to the BC SPCA Kamloops Branch in July 2014 for this very reason.
Luckily for Willow, her previous owners recognized their capacity and knew Willow needed more attention, commitment, training and exercise than they could give her, so we were able to find the perfect home for her.
The sweet and affectionate side of Willow's personality also came through her high energy. We knew that Willow would be endlessly loyal and protective over her guardian when the right person came along.
Soon after Willow came into our care, a woman named Helena came to visit the shelter. Helena saw a friend in Willow and didn't back down from the challenge of what it would take to make Willow the best dog she could be.
Almost four years later, we have received an update from Helena on her life with Willow:
I adopted Willow, a German shepherd/husky mix, from the BC SPCA Kamloops Branch a few years back, when she was one year and three months old.
I always pictured that when I met my next four-legged best friend there would be some special spark in the air, or we would exchange some instant bonding. Willow, however, really couldn't have cared less who I was. The only thing on Willow's mind was her ball. If you didn't throw it, she wouldn't be afraid to take your fingers with it! She was so excitable that she seemed a bit haywire.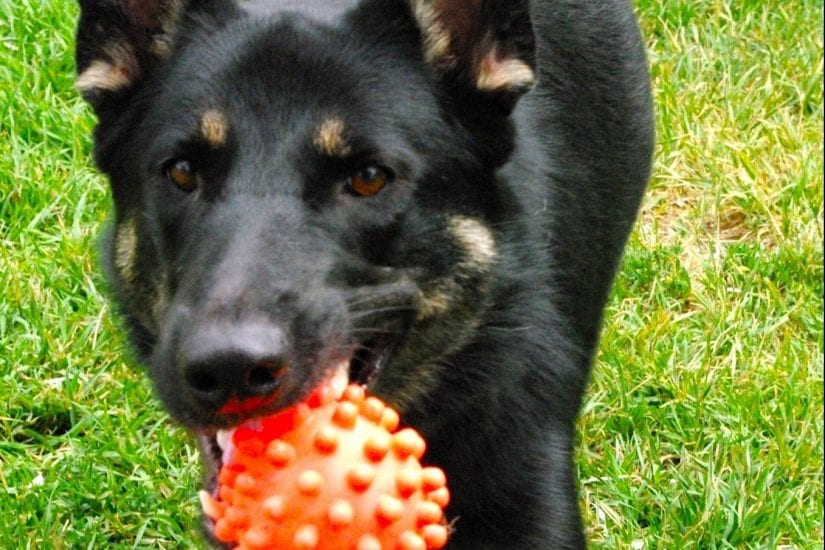 The day I picked her up with my brand new leash and collar for her, she literally yanked me out the front doors of the shelter. I knew I had my work cut out for me.
Now, a few years down the road, she is still a bit hectic at times but she does have amazing days. She listens well and heels beside me when I ask. We have done our obedience classes and some agility classes. We even go out into the trail with my horse. She and my horse aren't the best of buddies, but they deal with each other.
She is the smartest dog I have ever had, but she is also extremely opinionated. It took a very long time to find out which kind of dog food she would eat, as well as which kind of food dish she wouldn't dump over with all her food in it.
Even though there are some days when she makes it look like I have done absolutely no training with her whatsoever, I know she really would protect me with her life. She knows exactly how to show me she cares when I need it most. That is why a dog is a man's—or woman's—best friend.
We get out of relationships what we put into them, and when we put in the right amount of work and love, we will get a best friend for life. Thank you for adopting Willow and for giving her your time, effort, training and patience. We know she is much happier now that she has a caring guardian fully committed to providing her with such a fulfilling life.