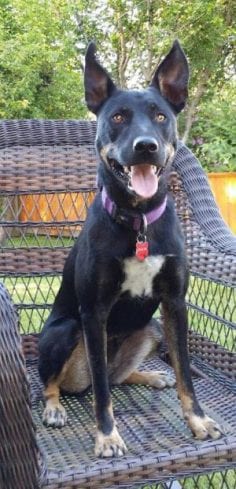 Storm was surrendered to the BC SPCA Quesnel & District Branch in January 2016 because she was too active for her previous guardian. The young pup was a bit less than a year old and bursting with energy, so she needed a guardian who loved to play and exercise as much as she did.
Storm was friendly with other dogs and even cats if they didn't mind being playfully chased once in a while. We knew she was very smart and loved to learn so doing some training would make her happy. She also loved toys, car rides, and being sociable.
Luckily, it didn't take long for her new forever family to find her. They sent us this update to let us know how great she has fit into their home:
Our story started when our SPCA rescue dog Shelby passed on Dec 6, 2015 after having lived 16 years. The following months, our home seemed empty and quiet. My wife started looking through the BC SPCA website for a dog that would be a good fit for us. She came across Storm and we were interested.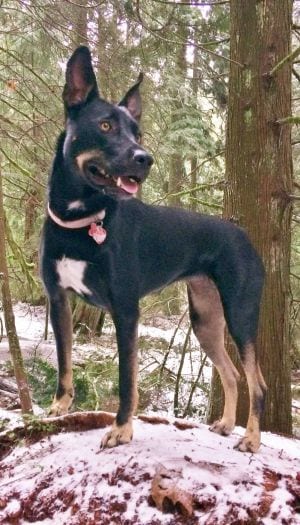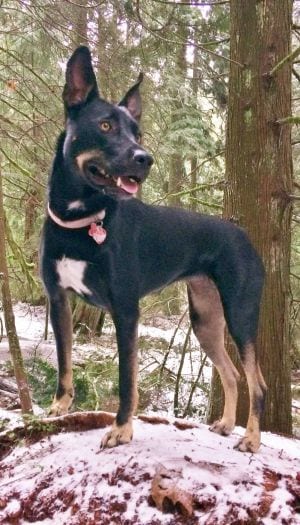 We made arrangements to drive the eight hours up to Quesnel to meet Storm. When we got there, we fell in love with her. We adopted her that day and have loved having her ever since.
We have changed her name to Roxy (her nickname is Pootie). She was only 11-months-old at the time and full of energy, which was what we were looking for as we hike and bike a lot. We needed to work on her leash skills and recall, but after a year of training she has mastered that and more. We have since found out that she is most likely an Australian Kelpie cross.
She has learned to sit at a 100 meters, come, and heel, all with whistle commands. This spring, we will be enrolling her to herd sheep and cattle at a local farm that train herding dogs; she loves having a job.
At the end of the day, she loves to snuggle on the bed or couch with us, waiting for the following day's adventure to begin. We are so happy that our home feels full again, now that Roxy is with us.
That is so wonderful to hear that Roxy has found her forever home and was able to add her love and warmth to yours. We are ecstatic to hear how well she's doing and how much she's learning. Thank you so much for continuing to make adoption your first choice.