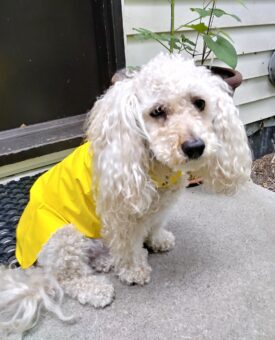 In the spring of 2019, Harley was surrendered to the BC SPCA Quesnel & District Branch at 10 years old.
Finding and adjusting to a new home at this age would be a challenge, especially since Harley was nervous around new people.
However, we soon discovered that once Harley found the right lap to sit on, he learned to trust the person attached to that lap.
We transferred Harley to the BC SPCA Vancouver Branch to gain more exposure to potential adopters. This is where he met Karen.
Over a year later, Karen has written to us with an update on how Harley is doing in his retirement home:
Harley recently received his BC SPCA rain slicker and thought he should show it off. His fur is so thick that he doesn't really notice the elements, but it keeps him a little cleaner.
Harley is a lovely boy. He's active, playful, affectionate and eager to please. He is always up for a walk or a nap on the couch or a car ride—whatever we want as long as we include him.
I don't think Harley is thrilled about staying home. He only tolerates it because his mom usually comes home with bags and bags of food. After all, there's no other reason to go out these days.
At first we were a bit worried about adopting a new dog because we already had a 15-year-old dog at home. We wondered if life become more difficult for our senior dog.
We soon discovered that we didn't have anything to worry about with Harley. Almost from day one, the dogs walk well as a team and often spoon together on the couch.
My Bichon has cataracts and sleeps very soundly, so I think she is reassured by having an 'assistance' dog. Everyone wins!
Thank you, Karen, for adopting Harley and for giving him a loving home for his senior years. He must be so happy that he can now share his love with not only his new humans but also his older canine sister. It sounds like Harley has found his forever lap on you.
Have you adopted an animal from the BC SPCA and want to share your joy with others? Submit your adoption story!