Sometimes, failing at something is a win. That's what happened when Stella came into the care of the BC SPCA West Vancouver Branch from Quesnel through the society's Drive for Lives program.
The whippet-border collie mix was surrendered after being hit by a car and her foster human fell in love with her – something often endearingly referred to as a "foster fail" – but we couldn't be happier.
Here's an update:
I originally fostered Stella at first because she was brought to the shelter after being hit by a car and needed ongoing care for at least a month.
I was also recovering from a car accident and wasn't able to work for several months so I had a lot of time to devote to a dog in need. She was underweight, fearful and not very good at being alone.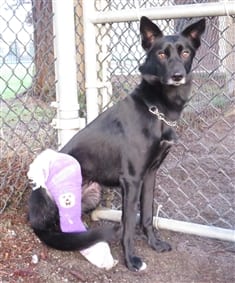 Fast forward a couple of years and she is the happiest dog! Her leg made a full recovery and she's the fastest dog at the park. She LOVES food now (that took more than a year) and is doing great.
It was a match made in heaven – we both helped each other. If it wasn't for my accident I wouldn't have had the time to give her and if it wasn't for her, I probably never would have left the house and stayed pretty depressed.
She really helped with my recovery, and now that we're both great, it's only trail running and snuggles from now on!
We're so thrilled to hear how your adopted fur-pal makes your life complete! Thank you for sharing your lovely story and for making adoption your first option.