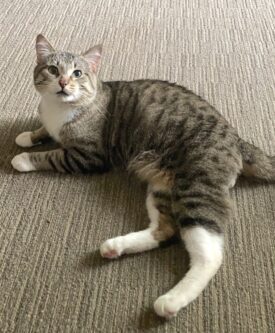 Sometimes, when amazing animals remain in the shelter for longer than usual, it's because they're still waiting for their perfect guardian to come along.
When Star came to the BC SPCA Kamloops Community Animal Centre as a stray in the spring of 2022, he was so friendly and curious. We knew he would make an amazing kitty companion.
It took a whole month, but finally Amy came across Star's profile and couldn't resist coming in for a visit. After spending some time together, it was obvious to Amy that Star was meant to be in her life.
Now, several months later, Amy has shared an update:
"In April 2022 I saw a photo of a boy named Star on the BC SPCA website. He had been in care for almost a month already. I requested to visit him and luckily I was able to go the next day to see Star the Cat.
The volunteers told me he had his own 'penthouse', a separate room, because he was such a curious boy, always looking to see what the other kitties were up to. I entered Star's penthouse and we played for about an hour.
Before I left, I sat on the ground to see if he would come to me naturally. Star walked right up and rubbed himself all over me, climbing into my cross-legged lap and rolling on his back while giving me a kiss on my cheek and rubbing against me as he laid there. I looked at him and he looked at me.
I knew right then this special boy was going to come home with me no matter what.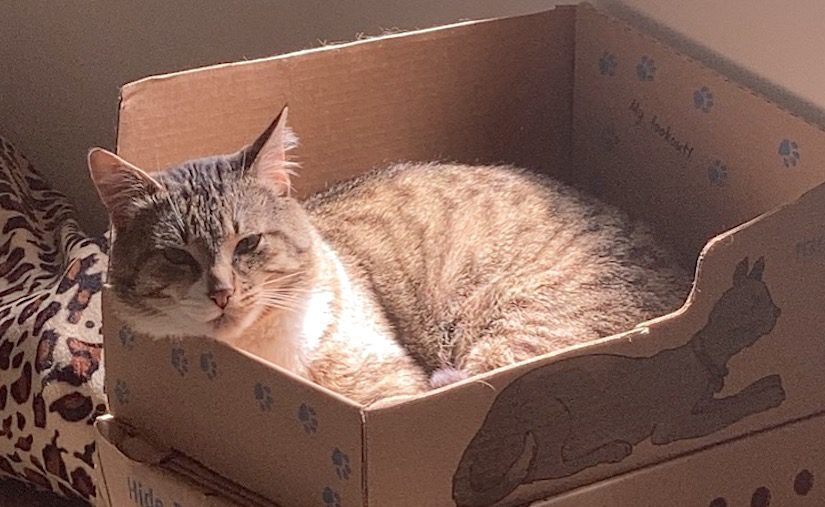 I felt terrible having to leave him that day. I was half worried that someone else would come and adopt him and half sad that he would have to spend another night alone.
When the adoption day came, I couldn't even wait until my appointed time. I was so excited I showed up early. I eagerly signed the papers, so excited that I was going to be bringing Star home with me.
I had set my house up in a segregated way so that when he first arrived I could try and ease him into the home slowly, but Star had no part of that. He insisted he explore immediately and was never fearful, scared or timid.
Star was brave and especially curious, as advertised, and I am grateful he settled in so quickly. It has made me feel I've given him a loving home where he can have fun and be himself.
Every morning Star jumps into bed with me and lays on top of me until I wake up and feed him his breakfast. When he sees me, he gets excited and shakes his head around and does a little 'mow wow' and rubs all over me.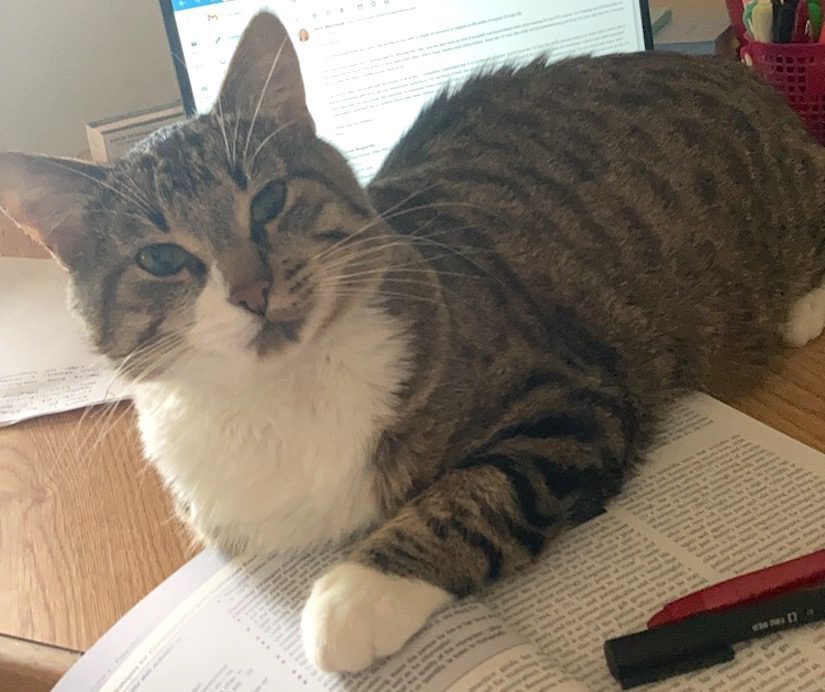 When I do my homework for nursing school, he will come and sit right on my laptop and textbooks, cuddling into my arms, trying to save me from studying.
Star has a tunnel that he loves to run through. I will hide behind the corner and then come chase him. He runs into the tunnel and then I run up behind him; he comes out the other end and we run in circles together.
Every time I feed Star, he gets the zoomies and runs up and down the stairs, through the kitchen and living room and back up again, parkouring off of stationary objects until the little chunk gets so tired he flops onto his side.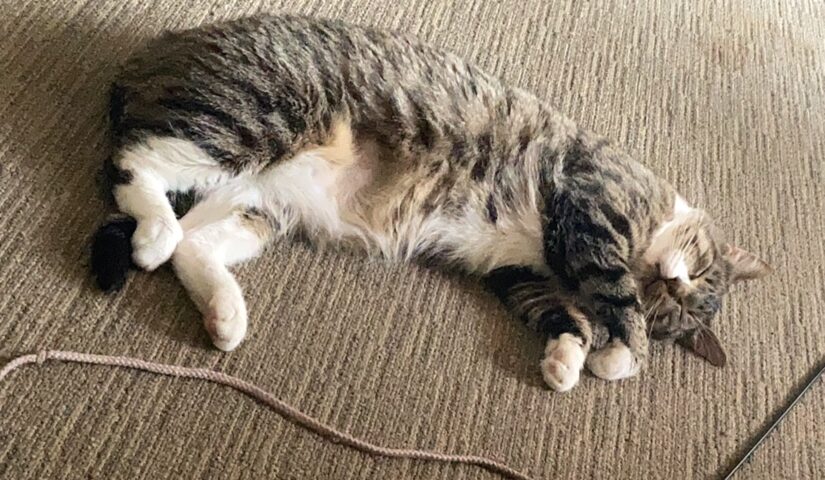 Star has changed my life for the absolute better. When I am alone, he comforts me, knowing I need someone. When I am sad, he lays with me, giving me comfort.
I would recommend that anyone and everyone adopt from the BC SPCA. These animals will thank you for it and it fills my heart knowing I changed this special boy's life for the better. Animals are precious and need those who will love them unconditionally with patience and kindness. Thank you, BC SPCA!"
Thank you, Amy, for choosing adoption as your first option. We are thrilled to hear about all the fun and love that you and Star share. It fills us with joy that he settled in so quickly and was comfortable in his new home right from the beginning. Star is such a special boy and it's obvious how much he loves his life with you. We wish you many more happy years together.
Have you adopted an animal from the BC SPCA and want to share your joy with others? Submit your adoption story!
Resources for cat guardians
How do I know if my cat loves me?