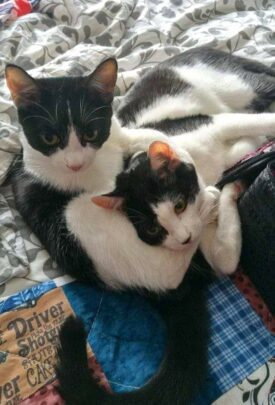 For so many of us, a house does not feel like a home without a cat… or two.
When Stacey and her sister lost their cat of 13 years, they couldn't ignore the void that they felt. Once they were ready to open their home and hearts, they were determined to adopt a young pair of cats this time.
Meanwhile, Smith and Wesson were surrendered with the rest of their litter at the BC SPCA Shuswap Community Animal Centre before they were transferred over to the lower mainland.
Once Smith and Wesson arrived at the BC SPCA Vancouver Community Animal Centre in January 2017, it wasn't long before Stacey and her sister met them and fell head over heels.
Now, five years later, Stacey has written to us with their story:
"My sister, Kerry, and I lost our beloved 13-year-old tabby, Darcy, and couldn't bear the empty home.
So, we went to visit the BC SPCA Vancouver Community Animal Centre to look at a different pair of bonded cats, but they were no longer available.
Instead, these two 10-week-old tuxedo brothers had just come in from Shuswap that morning. They weren't even posted on the website yet. It seemed like fate.
Having two young kittens was definitely an adjustment but they are an absolute delight. Smith is one of the most laid-back cats I've ever met. Wesson, while incredibly needy, is so sweet and playful. They are very close with each other. They often snuggle up on a bed together or kick a toy back and forth.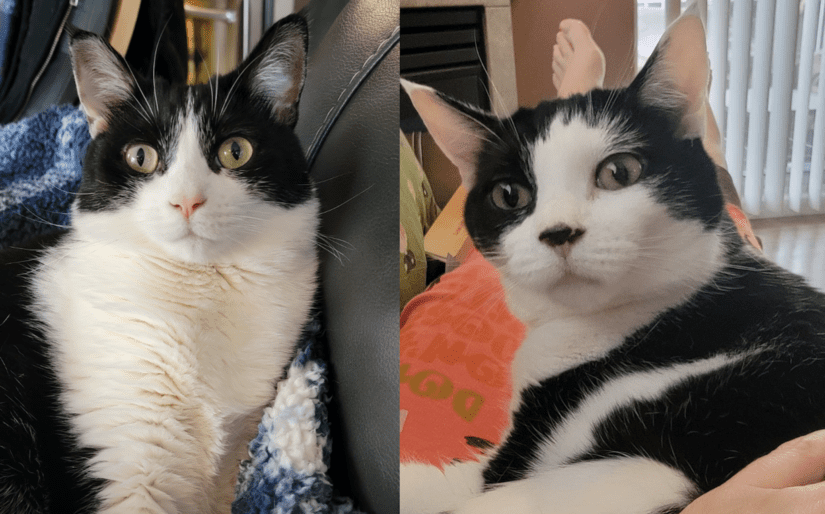 They love other people too, which is a huge change from our old cat Darcy—who our friends dubbed the 'devil cat'!
Adopting is the only way I will ever get an animal. Being able to give a beautiful soul a new beginning and insert them into our family is so rewarding and has a massive impact on us personally and on the lives of the animals we adopt."
Thank you, Stacey and Kerry, for adopting this handsome duo. Smith and Wesson are evidently living out their best possible lives with you and we're so happy you found them. We love to see how our precious feline friends help to round out their families and make their homes feel more full. May you share many more joyful years together.
Have you adopted an animal from the BC SPCA and want to share your joy with others? Submit your adoption story!
Resources for cat guardians
How do I know if my cat loves me?