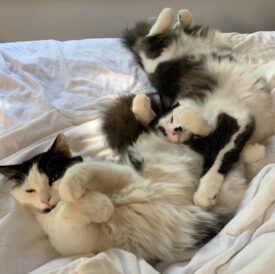 When Ollie was surrendered to the BC SPCA Williams Lake and District Branch with his siblings in November 2019, we soon discovered that he became very closely bonded with his sister Ozie.
Even though they were a little timid at first, we knew it wouldn't be long before this pair was scooped up into their forever home. After all, who could resist their beautiful green eyes and sweet demeanour?
We soon transferred them to the BC SPCA Vancouver Branch for more exposure to potential families.
Of course, Lucy and her husband Jake fell for Ollie before even meeting him in person. Upon discovering Ollie came as a package deal with Ozie, Lucy and Jake immediately welcomed the bonded duo into their home.
Several months later, Lucy has written to us with an update on how Ollie and Ozie have settled into their new lives:
Jake and I, recently married, decided it was time to expand our family by adopting a cat. We had been dreaming of this for five years.
We went to the BC SPCA Vancouver Branch on the "Fall Head Over Tails in Love" one day adoption event. We had seen three-month-old Ollie on the website and we needed to meet him.
As we stood in line for over an hour, we thought there was no way Ollie would still be available. Once we got in, not only did we see that he was still available, but he also had the most adorable little sister, Ozie. They were bonded.
We never thought we would leave with two kittens, but we did!
At first they were very shy. Ollie was his sister's protector. They found all the hiding spots possible—some very good like under the couch, and some not so good, like behind the toilet.
After a couple of days, we were able to lure them out with tasty treats and play. Ollie and Ozie soon became cuddly love bugs. They also enjoy their solitary time lounging in their cat tree.
Over the past eight months, it has been amazing to see them grow into their personalities.
Little Ozie, while shyer with people, is more adventurous and exploratory. She loves hunting bugs and growling at raccoons out the window.
Ollie is a big gentle bear with a mane of curly fluff. He demands pats by head-butting us.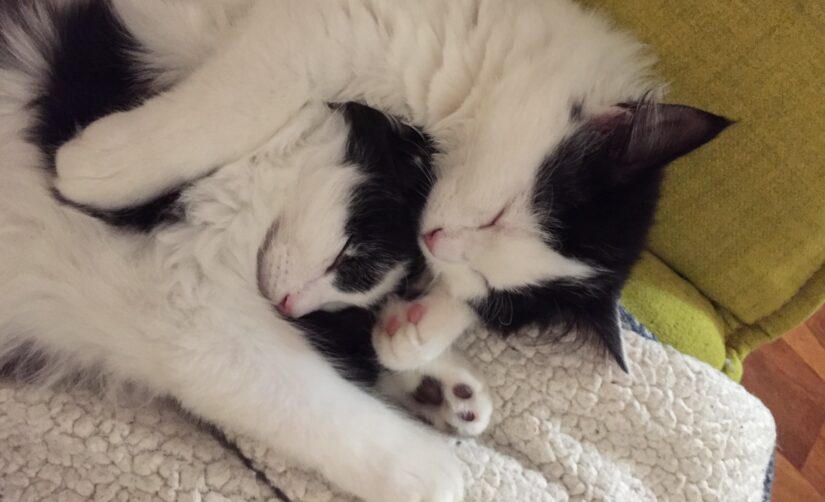 They both love chasing each other around the apartment, play fighting and grooming each other. They like to sit at the bedroom window chattering at the birds outside. They also go crazy for the laser pointer and have recently discovered a love for cat grass and freeze-dried sardines.
We absolutely love Ollie and Ozie and can't imagine our lives without them. They have been lifesavers during the COVID-19 lockdown.
Thank you, Lucy and Jake, for giving Ollie and Ozie their forever home. It can be challenging to find homes for our bonded pairs, so we are grateful to you for choosing to adopt this fluffy twosome. We wish the four of you many more years of making happy memories together as a family.
Have you adopted an animal from the BC SPCA and want to share your joy with others? Submit your adoption story!