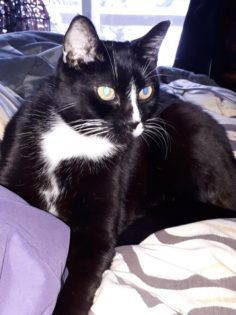 When we're looking to adopt a pet, something we don't automatically consider is whether they'll love us right away too!
Merle was looking to find that mutual connection about a year after losing her previous cat. She missed having that bond with a special feline in her life.
Then, one day in February 2019 at the BC SPCA Abbotsford Branch, Merle met her match in Slash:
I have been looking for a kindred soul ever since I lost my Maine Coon cat over a year ago. Every place I visited, I searched for that sweet soul who would touch my heart.
Then, on my birthday, when I was feeling like I would never find what I was looking for, I stopped at the BC SPCA Abbotsford Branch. There he was—Slash.
Slash has now been with me for a week, but he could convince anyone that he has been with me his entire five years of living. He immediately just adopted me as his person.
Slash follows me everywhere, sleeps all over me and talks to me like a person would, telling me about his day when I get home. He gives me so much love, I am totally amazed that we found each other. He has filled my heart and life.
Thank you so much for rescuing him and making it possible for Slash to come into my life.
Thank you, Merle, for choosing adoption as your first option. It sounds like Slash is settling in purrfectly, and has found his ideal confidante and guardian in you. Thank you for sharing your update with us on your first week together. We wish you many more years of cuddles and chatter with your sweet kitty companion.
Have you adopted an animal from the BC SPCA and want to share your joy with others? Submit your adoption story!