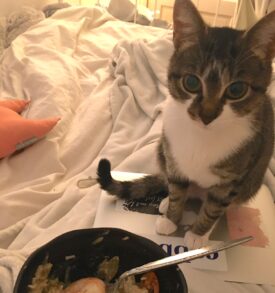 In the summer of 2020, Sammy came to the BC SPCA Abbotsford Community Animal Centre. She was pregnant and in need of shelter and resources.
Several months later, when Sammy was ready to be adopted out, we knew she would have no trouble finding a home.
This sweet, charming girl made friends with anyone she met. Of course, Bethany couldn't resist Sammy's beauty and outgoing personality when she met her in November 2020.
Now, a few months on, Bethany has shared an update on just how purrfect of a match Sammy truly is for her:
Since Sammy came home with me, my life has been so much happier.
I wake up in the morning to her cuddling next to me and she is always around to give me kitty kisses and love. Some mornings she wakes me up by dragging her favourite shoelace into my room, asking me to play.
While working at home, Sammy has been the perfect assistant. She always sits on my lap and even helps with the workload on her own laptop.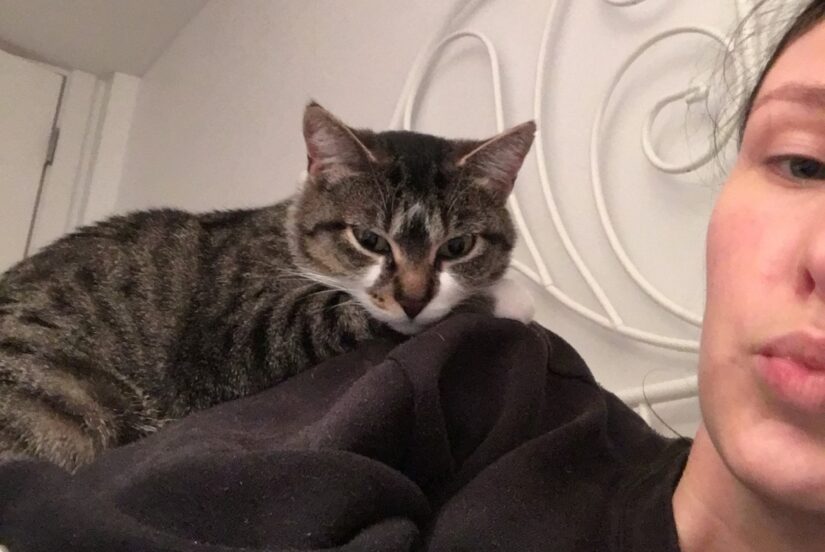 When I adopted Sammy, I was told that she loves to eat. As a dietitian who also loves to eat, I knew that we would be the perfect pair. She has gotten into the pantry a few times and seems to love carbs like her momma.
I can't imagine life without Sammy now that she is part of my family. I want to say thank you to the BC SPCA for giving me such a wonderful kitty!
We want to thank you too, Bethany, for choosing to adopt Sammy and for providing her dream forever home. We are thrilled to hear how many interests you share with Sammy—from work to food to cuddles. It sounds like you two have a special connection and we're so grateful you found one another.
Have you adopted an animal from the BC SPCA and want to share your joy with others? Submit your adoption story!