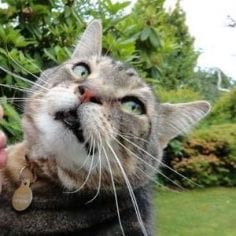 Sidney came into the care of the BC SPCA Port Coquitlam Education & Adoption Centre in 2001 when he was just a tiny kitten. Adoption quickly followed and he and his family have never looked back. Now, as he begins his 15th year, his devoted human sister has shared this loving tribute to Sidney:
October 9, 2001, was a Tuesday. I was 10 years old, so how do I remember that? I had tripped at school that day, and I still have a scar on my right hand's index knuckle from my clumsiness. Let's face it, life is pretty hard when you're a month into the fifth grade. And, to make matters worse, I had seen the kitten of my dreams that past weekend at the BC SPCA Port Coquitlam Branch, only to walk away from him because my parents wanted to "think about it" since it was such a "big life decision". What did they know? Clearly that adorable tabby was meant to be a part of my life.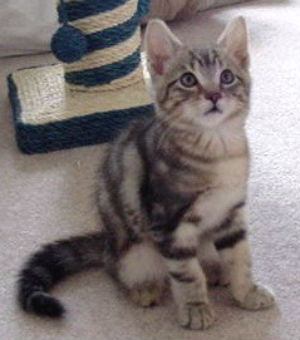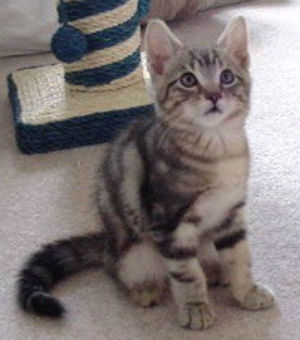 Well, let's just say I forgot all about my falling down at school that day when I saw a tiny kitten's head poking out the window of my parents' car when they came to pick me up. There he was—THE kitten—that adorable sweetheart with the golden emerald eyes and gorgeous bold markings. He was sitting in Mum's lap and I could see both her and Dad mirroring my smile as I looked at them through the window when I walked up to the car.
Sidney and I have grown up together. I'm nearing my 25th birthday now, and he'll be 15 this year. He still gets his playful streaks. Nothing can beat some string or a good toy mouse. Heck, he also reverts into his primal predator mode whenever he gets a whiff of my hair. I've never known another cat who attacks someone's head after sniffing their hair, but it's one of his bizarre traits that I adore. Alongside this is how he snores even sometimes when he's awake. He has never been one to properly "meow" but he makes the cutest chirps and mews. Not to mention the way he always says "bless you" (or makes a chattering snort that resembles it) each time after someone sneezes.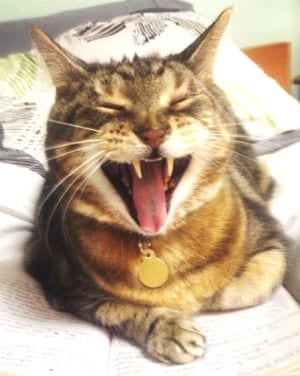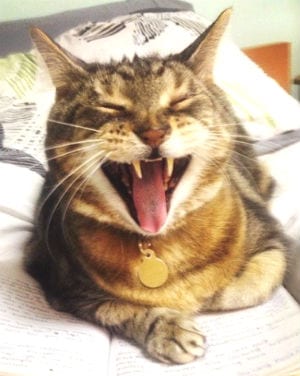 Since that fateful day in 2001, Sidney has taught me many things: savour the good things in life (like tuna), protect your family at all costs, and go with the flow. But, he has also taught me more practical things, like having a cat's butt print on your homework is no excuse to avoid handing it in. Especially in university.
It has been fascinating to watch Sidney grow over the years, and he'd probably say the same about me. He has seen me graduate from SFU and seen me enter my career field (which he approves of as I work from home a lot… meaning he gets unlimited cuddles when he's around). Currently, Sid fancies himself quite the nomad. Every few weeks he travels with my parents back and forth from Coquitlam to Victoria, which suits me just fine as I get to see him more often since I moved to Victoria just over a year ago.
Sidney has shown me the meaning of unconditional love by always welcoming my hand for belly rubs even when I haven't seen him for a week. In his older years, he has become a lot pickier in who he lets pet him. Family? Yes, always. Friends? Only if they have been patient and earned his trust. I've heard the saying that you can't teach an old dog/cat new tricks, but who says they can't teach you new tricks? Sid's selectiveness has taught me the importance of who I spend my time with, and that those who are patient and let him warm up to them first are worth my time as well. I believe Sid is very wise. His values are in the right place and the volume of his purrs has only increased with time. He's my BFF, my feline mentor, but he'll always be my baby boy.
Thank you so much to Amy for sharing this wonderful story, it is so rewarding for us to know that animals truly find their forever homes. We wish you, Sidney and your family many more happy years together.