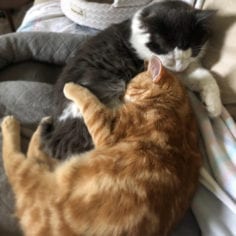 Our feline friends can greatly benefit from the positive influence of their peers.
When Mark and Erica brought their beloved, handsome grey-and-white cat Romeow home after adopting him from the BC SPCA North Cariboo District Branch, he settled right in. Romeow wasn't shy at all, and especially loved any company he could get from his new humans.
Within a few months, Mark and Erica also met Shiloh. Instantly they could tell that Shiloh was very sweet behind his nerves. Thinking that Shiloh might be a good match with Romeow, as Romeow could help Shiloh develop confidence and trust, they decided to take the leap and adopt Shiloh too.
Mark and Erica made the right choice and have now shared an update on the ever-evolving personalities of Romeow and Shiloh:
We adopted Romeow from the BC SPCA North Cariboo District Branch in May 2018 and he was instantly our cuddly kitty who wanted to be carried everywhere. He seeks constant human companionship.
A few months later in October, we also recently added Shiloh to our home. After being told the unfortunate story of his early months, we hoped our home would be a good fit. Lucky for us, it was!

It has been so wonderful to see shy, timid Shiloh become comfortable in bigger spaces and more trusting of people. His big brother Romeow has taken him under his wing.
While Shiloh is still not a fan of being held, he has already become quite the cuddle bug. He will flop on our feet and meow when he is especially demanding of cuddles. His happy place is chasing Romeow all around the house followed up with snuggles (and, with any luck, salmon treats) in their kitty bed.
Thank you, Mark and Erica, for choosing to adopt both Romeow and Shiloh this year. It is evident that Shiloh is getting more comfortable by the day with your help and the guidance of his big brother. Not only are they a wonderful match for each other, but it is also purrfectly clear that they have found their true forever home and family in you.
Have you adopted an animal from the BC SPCA and want to share your joy with others? Submit your adoption story!