Sweet Sheba had a rough start to her life. She was one of 46 dogs we rescued during a cruelty seizure in Williams Lake in early 2018.
We welcomed her into the BC SPCA South Okanagan/Similkameen Branch and made her as comfortable as could be.
Heavily pregnant at the time, Sheba soon gave birth to 11 healthy puppies. After nursing her litter, Sheba was ready to find a forever home to call her own.
With her gentle nature, we knew Sheba would make a wonderful addition to the right home. She was still very nervous under our care, but with some patience and training, we were confident she would blossom into a wonderful companion.
Fortunately for Sheba, Tia came along and envisioned a bright future with this beautiful girl.
Their beginning together was a bit rocky but, almost two years later, Tia has written to us with an update on how Sheba has settled in:
Sheba is a Border Collie American Eskimo mix, who was rescued from Williams Lake back in February 2018.
A week after she arrived at the BC SPCA South Okanagan/Similkameen Branch, Sheba had 11 puppies. She was about five years old at the time.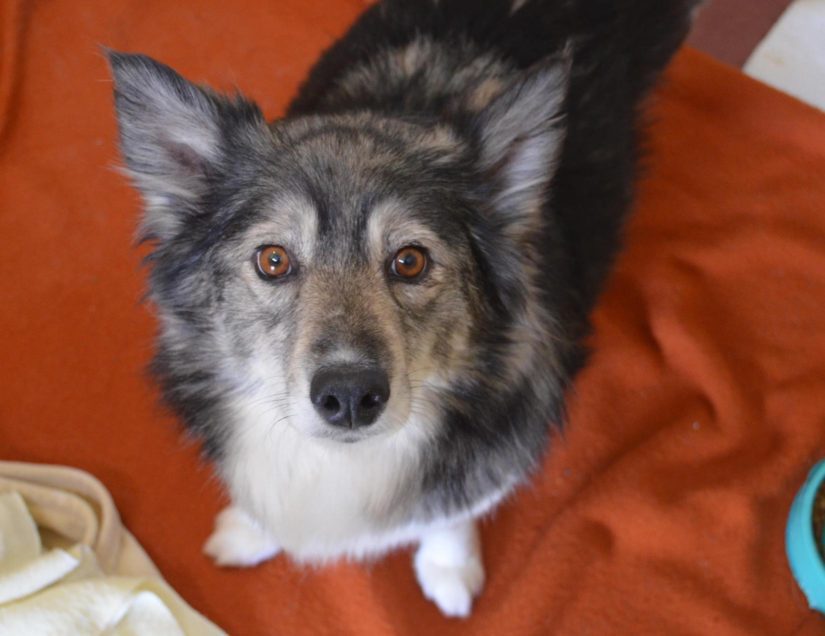 The day I brought her home, Sheba was still so nervous about everything. We had to carry her into the house, lift her into the car and hand feed her. She ran away five times in the first three months we had her.
Today, Sheba is a happy, healthy and extremely loved girl. She is spoiled rotten and now she never leaves my side.
Sheba has helped me through a lot in the last year. I have never had a dog as amazing as this girl!
Thank you, Tia, for adopting Sheba and giving her such an adoring home. Her change in demeanour truly shows how content and grateful she is to be your loving companion. Thank you for helping Sheba become the best dog she could be. We wish you many more delightful years together.
Have you adopted an animal from the BC SPCA and want to share your joy with others? Submit your adoption story!