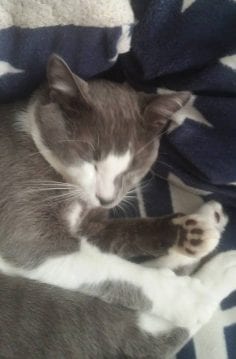 Shadow was about six months old when he was surrendered to the BC SPCA Vancouver Branch in the winter of 2017.
This little cutie loved attention, so he was always super friendly to everyone. He was constantly curious about new things he discovered and liked to play and socialize with other cats.
Shadow was looking for a forever home where he could spend his days relaxing inside or playing with his toys, and would be open to gaining new siblings he could (gently) wrestle with.
In July of 2017, his new guardians found him and brought him home. They sent us this message to let us know how he has been:
I adopted Shadow (now Smokey) after losing my previous older boy rather suddenly.
Smokey has made himself quite at home and, contrary to what I was told, is quite cuddly and loves being a lap cat.
Well, more specifically, a shoulder cat. He climbs me to be picked up for cuddles and is the sweetest little boy I could imagine!
He is my fourth rescue from the BC SPCA, and each has been a joy. I am so happy with my new companion.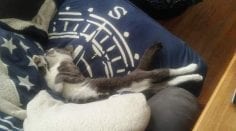 That is so great to hear how affectionate Smokey has become towards you and how much you've earned his trust.
Thank you for being amazing and giving not only Smokey his second chance, but three others before him as well, all by choosing adoption as your first option.