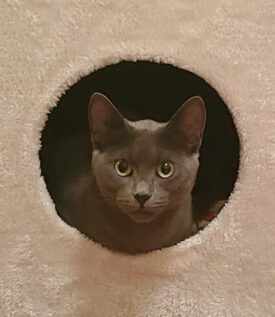 For our shy felines, it truly takes a loving family and comfortable environment for them to flourish.
Layla Dawn and her litter of kittens were found abandoned in a garbage bag earlier in the summer of 2021. So, it was not surprising that Layla Dawn was reluctant to trust humans right away.
After being brought into the BC SPCA Vancouver Community Animal Centre, Layla Dawn's kittens grew up with their mama and the attentive shelter staff. In September, once the kittens were all taken care of and adopted into loving families, it was Layla Dawn's time to shine.
Since Layla Dawn wasn't enjoying her time in the branch, we knew it would come down to finding the right guardian to encourage her to come out of her shell.
Then, along came Lori, who was thrilled to give Layla Dawn just the home she needed.
The next day after adopting Layla Dawn, Lori wrote to us with an update:
"We adopted Layla Dawn yesterday. She is a shy, scared little girl but we quickly realized that she just needs time and some catnip.

Even during our first night with Layla Dawn, we saw her little personality come out. We feel that she yearns to be the kitten she never got to be while she was too busy being a kitty mom herself.
We are excited about our new life with our precious little girl. Layla Dawn will furever be our playful kitten."
Thank you to you and your family, Lori, for choosing adoption as your first option. Being such a young cat, Layla Dawn now has the opportunity to enjoy some fun and mischief. Above all, we are so glad that she will get to be herself in her loving forever home. Thank you for giving Layla Dawn a second chance at life.
Have you adopted an animal from the BC SPCA and want to share your joy with others? Submit your adoption story!