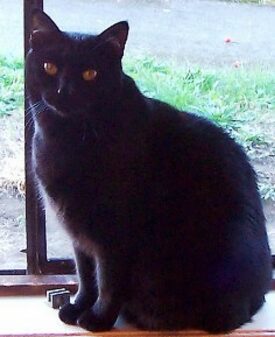 On Oct. 28, 2005, an unwanted litter of kittens was surrendered to the BC SPCA Victoria Branch, along with their mom, as she wasn't wanted either. Fortunately, this beautiful gal had a better life waiting for her, as she was destined to enrich the life of her adoptive match.
And that she has, for 15 years and going strong. Here is the story of the life of Shadow, from her forever dad:
It was 15 years ago this afternoon (November 2, 2015) when I adopted my cat from the BC SPCA Victoria Branch, and it has been the best 15 years of my life. The day before, it was as though something made me stop there to look at adoptable animals. I really hadn't planned on going through with it, but in the far corner at about eye level, I saw a small black cat.
It was obvious she has just had a litter of kittens, she had just been spayed and she had a small, curly, corkscrew tail. When I got closer, she started meowing at me, then reached through her cage to put a paw on my cheek. It was love at first sight.
The following day I went back and completed an adoption application and brought her home with me. The name she had been given was Chloe, but within a few days I changed it to Shadow, as she would follow me all around my apartment just like my own shadow.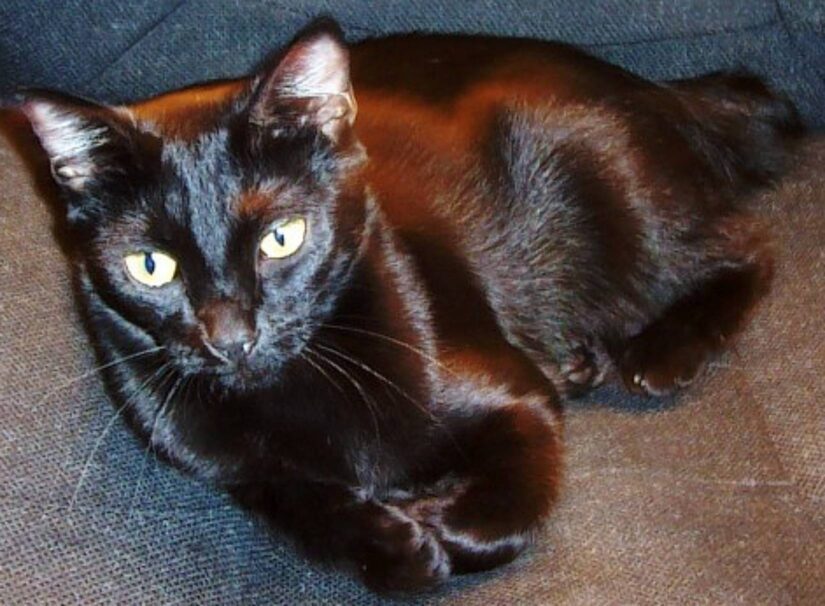 It took her a few days to settle in, but she knew that this was her home now.
I never really knew that cats could give such comfort and unconditional love, but over the past 15 years Shadow has provided me with both many times over, while asking for so little in return.
During losses of family and friends, she has been there for me at every moment, and even now Shadow continues to curl up next to me when I am sleeping, with her paws touching my arm or hand or leg. On the odd occasion I sleep in (or try to), she will sit next to my head and then gently tap my face with a paw, to wake me up so I can get her breakfast.
Despite having had some health and medical challenges over the past few years and starting to slow down with going on 16 years old now, Shadow has always been, and will always be, just as she was described at the time–a "friendly, amazing cat."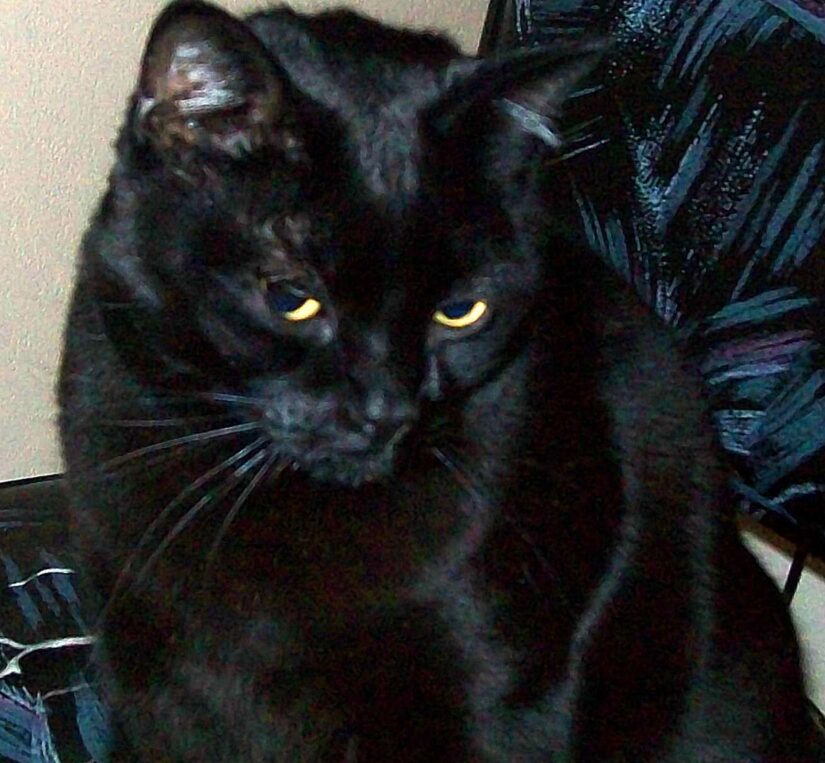 I really don't know just what made me stop at the BC SPCA that day, but having Shadow as a part of my life all this time has been the most enriching experience for me. There isn't anything I wouldn't do for her, and watching her wag her little stumpy corkscrew tail when she is happy is always a sight (she is a Manx).
Hard as it is to believe that it's already been 15 years now, I continue to hope and pray that Shadow will be around for some time to come yet, but I want to thank you all at the BC SPCA Victoria Branch for giving me this opportunity to have such a special little friend as Shadow in my life.
A story like this is what makes our work so rewarding. To know that an animal once in our care has been living life as a cherished companion makes our hearts soar. There truly is nothing like the unconditional love of an animal friend.
Thank you so much for making the unexpected choice to adopt that day so long ago, and for making Shadow's life so blessed. We do hope you and your precious girl share more  years together.
Have you adopted an animal from the BC SPCA and want to share your joy with others? Submit your adoption story!