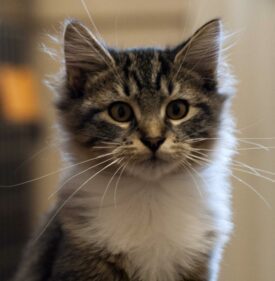 When we know what we're looking for, sometimes we're prepared to wait. Such was the case with the couple who adopted this young Maine Coon brown tabby from the BC SPCA Shuswap Community Animal Centre on November 13, 2013.
Lucky for them, Sequel and his three siblings were brought to the shelter after being found in a backyard in Salmon Arm, no momma in sight. They were barely eight weeks old.
We are so gratified to hear from his guardians so many years later that Sequel is still happily homed:
"Once one has has a Maine Coon type one is ruined for all other cats. My two previous cats had departed when I started my quest for another Maine Coon and it was nearly three years later when I was contacted.
The BC SPCA Shuswap had an overpopulation of cats and kittens. A sharp-eyed staff person recognized one kitten in a litter of four who had Maine Coon tendencies. The rest of his mates had gone out for adoption, and he was the smallest in the crowd, and quite intimidated.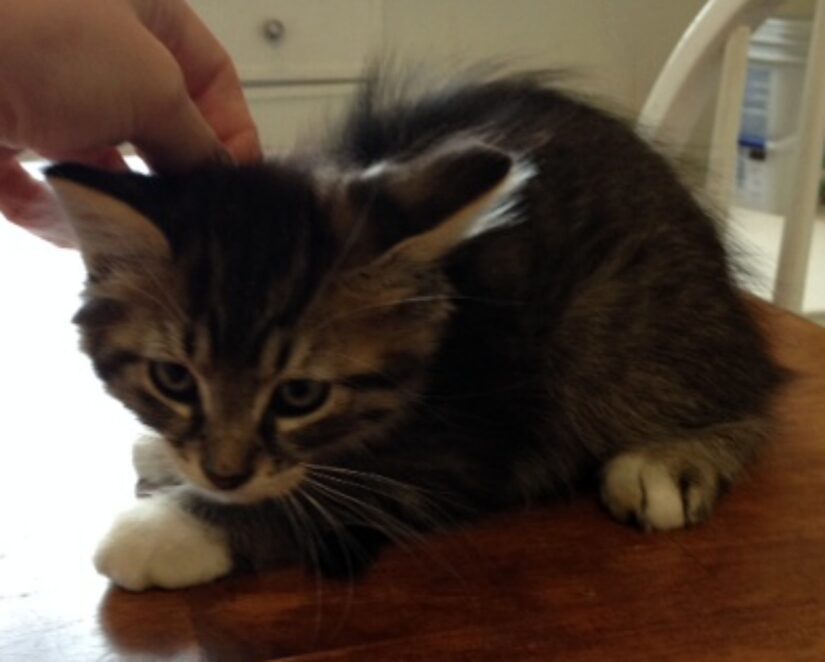 The staff at the BC SPCA Shuswap were beyond wonderful. They did not pressure me but brightly suggested a "twofer" should I want to relieve them of an extra cat. My husband was doing laps in the parking lot and refused to contribute to my decision.
I must admit that it was love at first sight. I had met the companion of my old age, other than the guy doing laps in the parking lot. After we completed the paperwork, my husband picked up the carrier and drove the getaway vehicle.
Not a sound came from the back seat all the way back. We stopped to pick up a cat kit and came home. The kitten strolled in like he was home and like he was saying, "why had it taken so long?" We named him Sequel as he is not our first. He is our magnificent Shuswap Coon Cat.
Like most of his breed he has a fascination with water, was slow to mature and has more "dog tendencies" and will play tag and ball with me. He also is a weather prophet, particularly with snow. He is psychic, highly intelligent and absolutely amusing. We call him Equal Sequel as he loves us both.
My husband had an aberrant pneumonia without the usual symptoms and it was the cat, getting up on the desk and planting his front paws on my husband's chest while he stared into his face that alerted me that it was not just flu but a very serious illness. Indeed, my husband was admitted to hospital for a week.
Sequel has enriched our lives in ways that only an animal can. He is exceptional. He is, however, quite vain and rightly so, for he is indeed a handsome chap, from his marvellous whiskers to his Shuswap Coon coat– those tabby ripples so like dark water–down to his enormous plumy tale.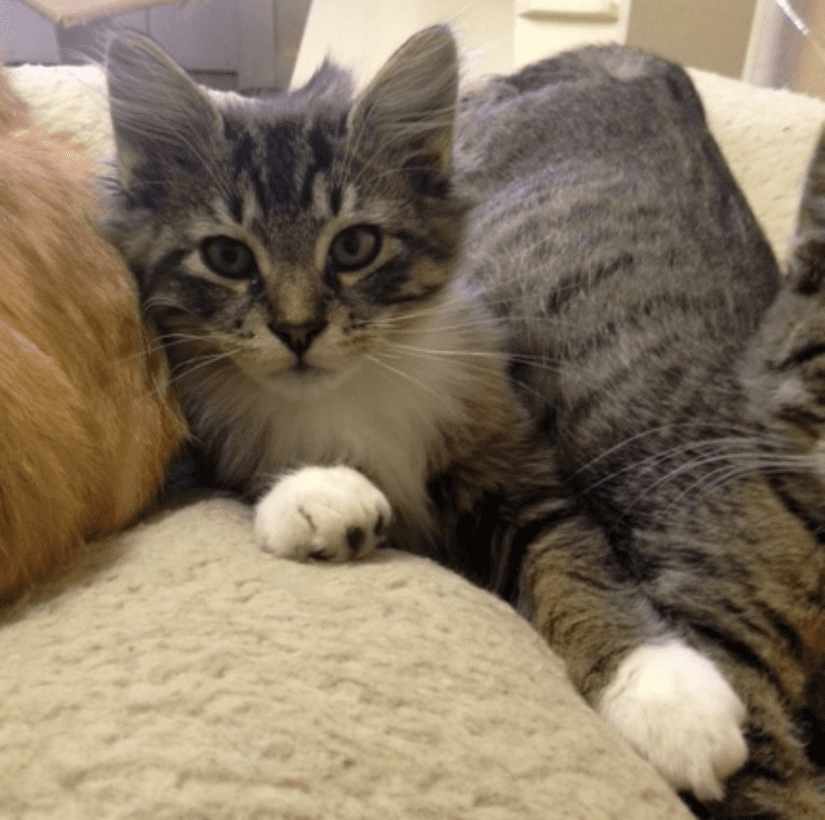 I have lost my heart to this cat and shall be ever grateful to the BC SPCA Shuswap ladies who found him for us."
We are grateful to YOU for choosing to adopt, not shop. It truly does sound like Sequel was worth waiting for. May you and your handsome boy continue to live together in love and good health for years to come.
Have you adopted an animal from the BC SPCA and want to share your joy with others? Submit your adoption story!