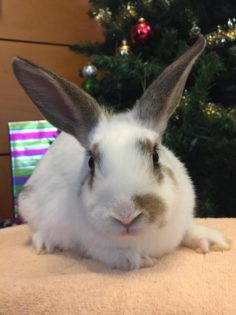 Two days before Christmas in 2017, Scout was surrendered to the BC SCPA Maple Ridge Branch with his whole litter of brothers and sisters.
A young, confident rabbit, Scout was already starting to enjoy being handled by our shelter staff as well as playing with all the toys. As we watched him grow over the next month, we knew Scout would make the perfect companion for humans and rabbits alike.
In early February, Jocelyn came to the shelter looking for some bunny to love and ended up falling for Scout.
Now, Jocelyn has written to us with an update to share:
Scout came into my life a month after I had lost my previous rabbit companion after 10 years of togetherness. From the start, Scout has been his own bunny with personality second to none.
After only two weeks, Scout was litter box trained and has had run of the house ever since. We share everything—except for wires, of course. We have our routines of play and chase, and many other games that he comes up with, which fill each day with love and companionship.
This was our first Christmas together and I loved opening presents on the floor with Scout, who enjoyed his extra raspberry and green bean.
 I can't thank the incredible people at the BC SPCA Maple Ridge Branch enough for rescuing and taking care of Scout, and for enabling us to become a family. It makes me so excited to think that our lives together have only just begun!
Thank you, Jocelyn, for choosing adoption as your first option. Your story has confirmed just how wonderful a companion Scout has turned out to be. Your first year together sounds like this little rabbit's dreams have come true. We wish you many more years of love and happiness.
Have you adopted an animal from the BC SPCA and want to share your joy with others? Submit your adoption story!