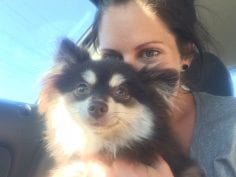 Beezie had a bit of a rough start to her canine life – after the BC SPCA rescued her from a breeder following a cruelty investigation in February of 2016, she was adopted twice – and returned twice.
But that didn't stop her new guardian from adopting her from the BC SPCA Maple Ridge Branch and Beezie found her forever home on June 1, 2016, complete with fur-siblings to keep her company. Now she's doing great! And her guardian says Beezie even helps her be better at her job:
Beezie was seized from a breeder February 2016 along with her brother and mother. She was brought to my vet clinic for her spay at five months old and I completely fell in love with her the moment I saw her.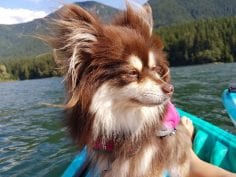 She is a very nervous dog – it took me eight months before she trusted me enough to sleep on my bed, or to play with me and my cat Milo (also an SPCA kitten, with cerebellar hypoplasia).
It was very hard at first to connect with Beezie. She would never stop moving and always looked anxious and I didn't know how to communicate with her. We'd run for hours three times a day and she still seemed like her brain was buzzing. Beezie had been through two homes prior to me and returned to the SPCA due to barking – she's a very reactive dog.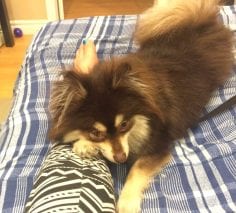 But after months of trial and error, I found a few ways to help Beezie be the happy dog she deserves to be. We adopted another young Pomeranian named Zoey and they became instant best friends!
She finally had someone to relate to and talk with. We went to reactive dog and puppy classes. After a few months I also made the decision to put Beezie on Prozac, and it was like night and day.
She's stopped pacing and barking at every sound, and now she can focus on a fun game or a new skill she learns with ease. Now she seems genuinely happy. We still have far to go but I'm so proud of her. She comes to work with me every day, I'm never without her.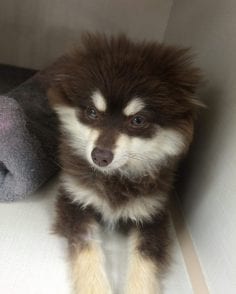 Beezie has helped me to become a better vet too, because now I can relate to owners with reactive dogs or dogs with anxiety. We can share our experiences and work together to make the best plan for their animals. I'm grateful for everything Beezie has taught me. She's the best thing that ever happened to me.

We are so glad to hear that Beezie is doing so well in her forever home and are amazed at how far she has come.
Thank you so much for giving her a loving forever home. We know she is in great hands and getting all the love she deserves because you chose adoption as your first option.