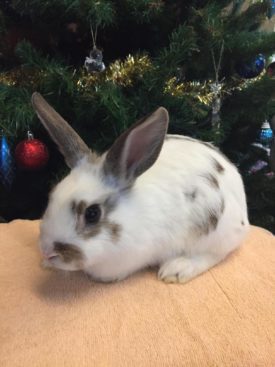 A major part of enhancing our pets' lives is entertaining them on a daily basis. Ensuring they are mentally stimulated enriches their lives spent with us and, of course, it enhances our lives too.
When Jocelyn was searching for a new companion, she couldn't resist Scout, a sweet American breed rabbit, at the BC SPCA Maple Ridge Branch.
In February 2018, Jocelyn brought Scout home and they have been keeping each other entertained ever since.
Two years on, Jocelyn has written to us with their story:
Scout and I are enjoying our two-year adoption anniversary today. Oh, how the time has flown!
We're an integral part of each other's lives, especially now that I've retired. Scout loves toys and games. He loves to run around a course through the furniture like a Superdog for a treat.
Scout loves his routines and he knows exactly when he should get his meals, wake up or go to bed and when it is time to pursue a treat. He likes to pretend that he's independent but he usually comes to me for an hour-long cuddle in the evenings.
We can't thank you enough for making our partnership possible and for taking such good care of Scout until we met.
Thank you, Jocelyn, for adopting Scout and for giving him such a fulfilling life. We can tell that each of your days are better for having each other in them. Thank you for providing such a loving forever home for special little Scout. We wish you many more memories and moments of fun together.
Have you adopted an animal from the BC SPCA and want to share your joy with others? Submit your adoption story!