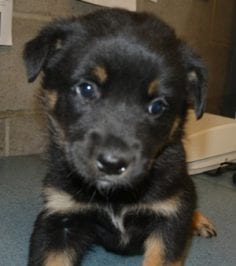 Sandy was surrendered into our care at the BC SPCA Williams Lake & District Branch in July, 2016 because her previous guardian could no longer afford to care for her.
Sandy was only two-months-old when she arrived to the branch and it didn't take her long to charm all the staff with her affectionate attitude and playful puppy energy. Sandy fortunately didn't have to wait long to be discovered by her new guardian and was quickly adopted.
Sandy is now known as Sadie and has had several months to settle into her new forever home. Sadie's guardian, Asia, has sent us this update to let us know how Sadie is doing:
After the loss of our beloved dog in early July, we needed help to fill the void of our family pet. Our three-year-old golden retriever (Molly) was missing a best friend and we could clearly see she was upset as we were for the loss.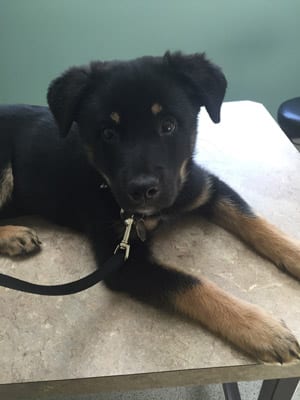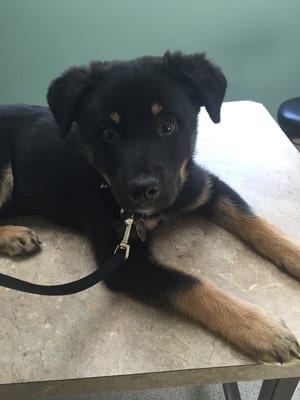 We are dog people and knew that the hunt was on for our perfect new companion. I spent every day looking for the BC SPCA website and found a little eight-week-old rottweiler named 'Sandy'.
The following week on my day off work, I loaded my seven-year-old daughter, three-year-old son and our golden Molly into the car for the five-and-a-half hour drive to the BC SPCA Williams Lake & District Branch to see Sandy.
Sandy (now known as Sadie) took a liking to us right away and was very excited to see Molly. Molly could care less as she was very tired from the long drive. Sadie spent the entire ride moving from child to child for loving and desperately trying to get into the front seat to see Molly. By the time we got home, Molly was ecstatic to be out of the car and was now ready to play with this new puppy. They spent the next few hours running around our yard getting to know each other and then had a good nap, side by side. It was love!
Over the course of the next few months, Sadie has come to know our home as hers. Sadie has learned hand commands to sit and wait. She has also learned to come when she is told and knows not to go outside of our property line. She met a new friend, Suzie the shih tzu next door. Sadie was about the same size as Suzie when she got here and is now about three times the size.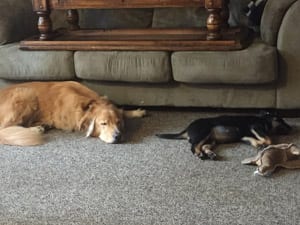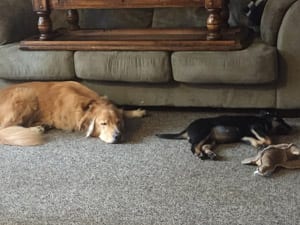 Sadie's favourite toys are anything that she can squeak, pull on, and very large sticks from the yard. She likes to prance and pounce like a cat which is very entertaining. If Molly is too tired to play she likes to sit and play with our son.
When it's getting close to bedtime she climbs up onto our coffee table and stretches out and then we know she would like to go to bed. Sadie currently sleeps on the floor in our room, but we usually find her stretched out against our legs by the time we wake up so she's close for kisses.
Sadie is now about five-months-old and will be going to advanced dog training soon now that she has the basics down. We know people have perceptions of the Rottweiler breed and hope we can help her by introducing her to all different types of small and large dogs as well as making sure she is well trained.
We are very sad to hear about the loss of your previous dog but we are delighted that Sadie has come into your lives and made such a big impression. Thank you so much for making adoption your first choice. We're sure that Sadie will do you proud by being the best behaved dog in dog class.