On April 24, 2019, the BC SPCA Cruelty Investigations Department was called to a home in Port Coquitlam to respond to a complaint. They came away with four beautiful, sleek black kitties. Golden-eyed beauty, Sally, was one of them.
Had they not been surrendered the two males and two females, all intact young adults, were capable of making a significant contribution to the cat overpopulation problem in the province.
Instead, they were taken to the BC SPCA Vancouver Branch, where they were spayed or neutered, vaccinated and treated for any ailments.
Given that she came from a multiple cat household, it's not surprising that Sally (and one of the boys) was showing signs of stress. The two spent a couple of months in foster care to make extra sure they were comfortable enough to spend time in the shelter.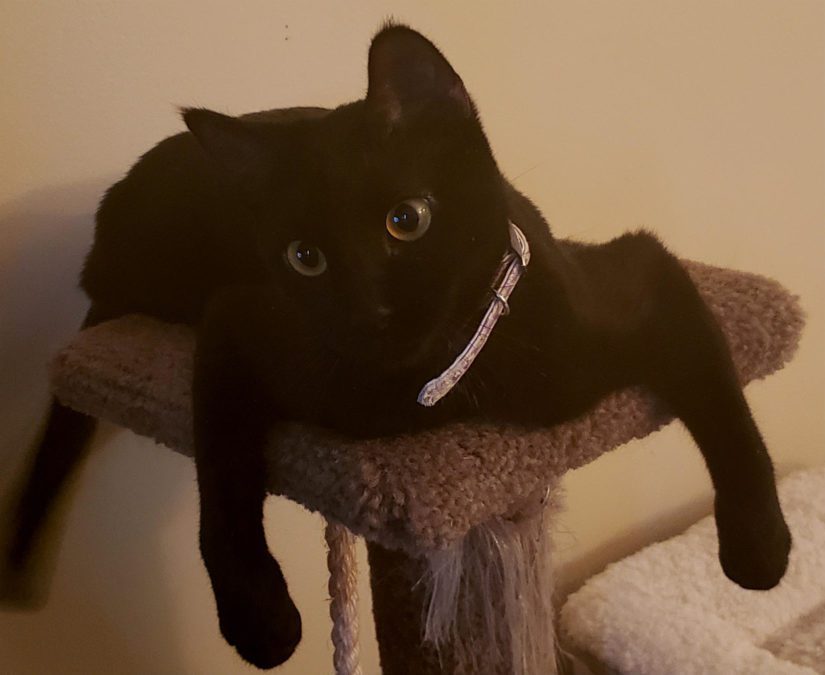 When she went into foster care, Sally was underweight and nervous and wouldn't use the litter box. But from the sound of this report from her forever family, she was just waiting for her opportunity to blossom:
Since adopting Sally on June 27, 2019, we have had her in our lives for an amazing four and a half months.
She has changed my life in so many ways and brings me so much happiness and love. The changes my family and I have gone through are nothing short of amazing, and I think Sally would say the same about her life.
I have documented so many videos and photos that looking back on them it seems like she has made crazy steps into a much healthier and better lifestyle.

One of the challenges we faced with Sally when we first took her in was her weight. She was fairly skinny and would not eat much, so for the first week we gave her high protein wet foods until she gained our trust.
Now she's an unstoppable eating machine. Sally loves her treats and mealtimes and takes much pleasure eating beside our much older cat.
At first we thought at best our two cats, Sally and Axel, would just continue to keep a distance from each other. But since Sally's arrival so much has changed, and now these two besties can't be stopped.
Axel likes to play chase with Sally just as much as she likes to with him. If they are having naps, they have to have them together.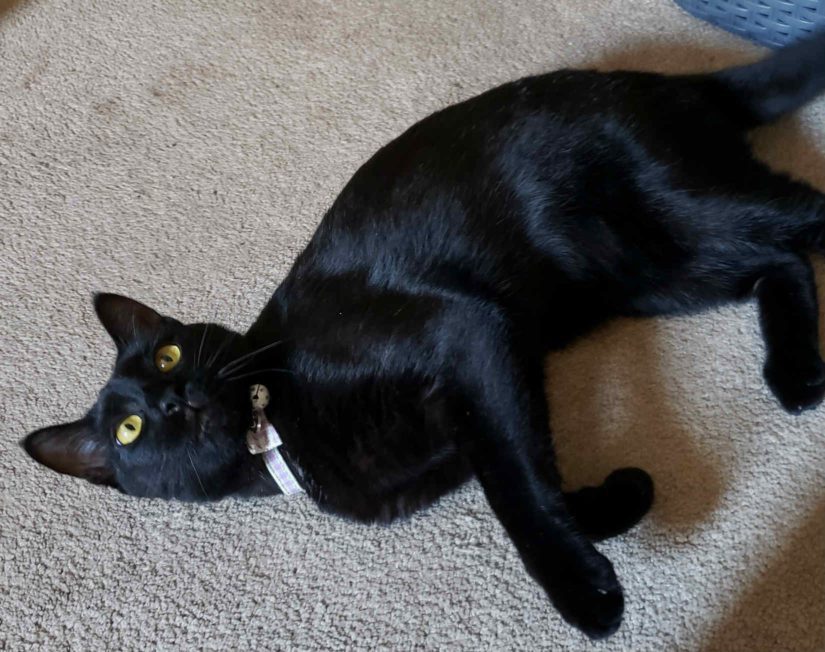 Sally has some hilarious personality traits. She always seems to know where the treats are, so we have to change the hiding spot so she doesn't break into the bag at night.
Sally likes to tell you about her day and you will hear about it. She has become so vocal and playful it's heartwarming to see.
Sally is a huge Mommy's girl, and wherever mummy is she's gotta be there too. She follows Mommy into the bathroom, bedroom and kitchen. If Mommy is cooking, then Sally is nearby watching Mom to make sure Mom has company.
Sally is such a precious gem and is flourishing!
My husband and I are so happy to have Sally in our lives and we are so excited to see our cute little girl and her older brother greet us at the door every day.
This story demonstrates the resiliency of the spirit of our companion animals. Sally's happy, fun little personality was in there all along, waiting for the right human and animal companions to bring it out of her.
And she's only a year old, so we bet she's not done yet showing you what she's made of.
Thank you for making the decision to adopt. May you have many more years of happiness together.
Have you adopted an animal from the BC SPCA and want to share your joy with others? Submit your adoption story!