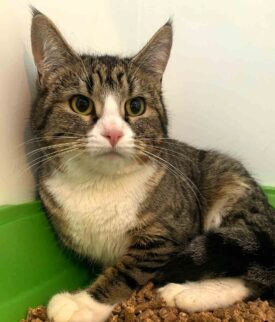 This beautiful, young grey tabby is Poppy.
Poppy was left behind in a home in Williams Lake when her owner moved. About four months later, a good citizen brought her to the BC SPCA Williams Lake Community Animal Centre. At less than one year of age, somehow this kitten survived.
The Drive for Lives program brought Poppy to the BC SPCA Vancouver Community Animal Centre, where she was spayed and introduced to a larger number of potential adopters.
By March 2, 2021, she was on her way to her forever home. Here is a happy update on her first few months with her new mom:
Poppy (one year old) was a friendly, sweet cat from my first meeting with her.
I brought her home the day after her spay. It took a day or so for her to recover her appetite. She was not a fan of the cone, and looked silly and funny as she licked the inside of the cone like crazy, trying to groom herself.
She used the litter box properly from the beginning. Scratching is still a bit of a work in progress, but I was able to redirect her scratching to some cardboard scratching pads. I would move her to the nearest one when she started to scratch, and then praise her when she scratched it.
At first she was very alert to the sounds in the hallway of the building. She would even stand up like a meerkat. She still pays attention to outside noises, but is less tense about them now.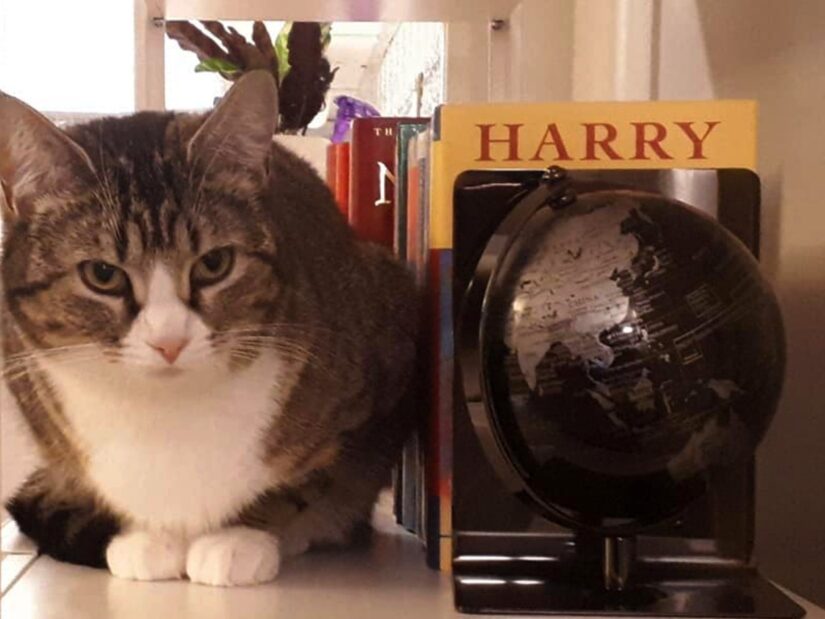 At first I was going to keep her out of the bedroom at night because I thought she would keep me awake, but seeing her little paws slipping under the door and hearing her scrape her cone along it as she tried to get in, I couldn't resist. From the next night, she was sleeping in the bedroom with me.
It took a while, but we are now sleeping through the night together, her on top of her cat tree by the window. If she isn't sleepy yet, she'll look out at the street below or groom herself.
Often in the early morning she will hop on the bed and nose around my face while purring. She'll even gently touch my face with her paw to see if I'm awake.
But when I'm not ready to get up, she eventually curls up on the bed and sleeps there until I get up, at which point lots of cat cuddles are in order. Since I adopted Poppy, every morning starts with cat cuddles. It is my favourite part of the day.
Poppy is a very talkative cat. All her little "mews" and "mrrs" really feel like a conversation, and I enjoy them.
She is also big on greetings. When I get home, she'll come greet me and stretch and roll around on the floor as I pet her. She loves being petted, even on her belly. She is friendly with everyone.
Poppy's favourite toy is a fishing-rod-style toy, with a neon fuzzy worm dangling from it. She has done some very impressive jumps and flips while chasing it.
Whenever I bring it out of the cupboard I have her instant attention. When I drag it along the carpet and then stop moving, she'll crouch down, watching it intently and (if needed) belly crawl to a closer distance before doing a wiggle-and-pounce. It is very cute to watch.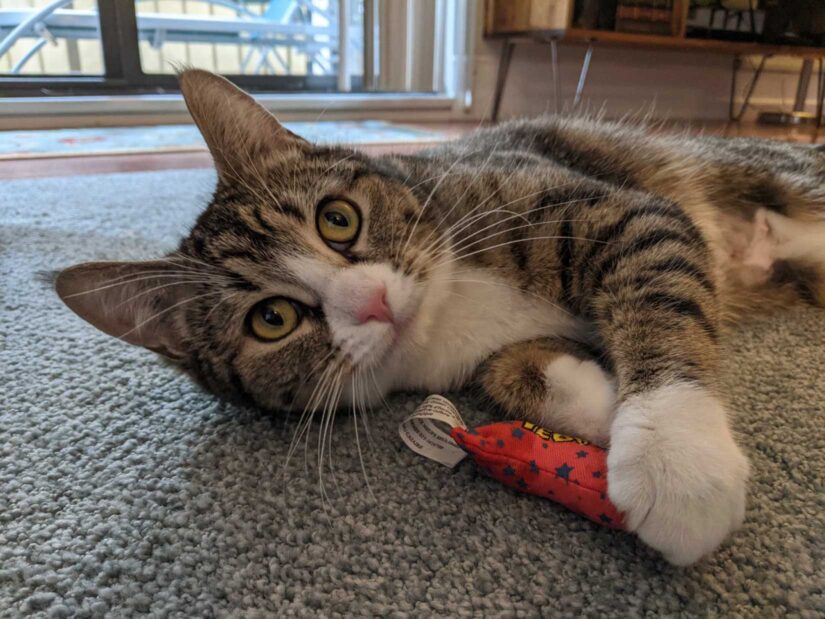 We are working on the issue of counter hopping. I tried covering the counter surface with aluminum foil, but it didn't discourage her for long. I recently relocated the cat supplies to a different cupboard. I am hoping that she will lose interest in the kitchen counter since her food is no longer stored and prepared there.
She is good about getting her nails trimmed, as long as she is in a relaxed and sleepy mood. She struggles during tooth brushing, but I feed her treats during it so her experience of it isn't all bad.
Despite these small things we are working on together, from the beginning she has been a well-behaved and sweet-natured cat. I feel so lucky to have been able to adopt her.
And though I find it hard to understand why Poppy's former owner gave her up when they moved, it at least seems like they had taken good care of her while they had her.
We don't always know the circumstances that lead to an animal coming into our care. In many cases, the decision to give up a furry friend is likely very difficult. Particularly when, as you point out may be the case here, they were well loved.
The good news is that there are people like you who choose to adopt and provide a second chance to a wonderful companion animal. We thank you for being Poppy's hero by providing her with a safe, loving and stimulating furever home.
Have you adopted an animal from the BC SPCA and want to share your joy with others? Submit your adoption story!