Finding the right comforting environment can do wonders for our animals' well-being.
Sadie, a sweet-tempered and friendly chocolate Labrador retriever, had been in and out of treatments for ongoing medical issues. She really needed a stable home with a loving guardian to help with her healing.
Then one day in the summer of 2019, Katie came into the BC SPCA Victoria Community Animal Centre. When Katie entered the dog area of the shelter, she instantly felt a pull towards Sadie.
Once Katie and Sadie met, they both knew—and bonded instantly.
Now, three years later, Sadie is doing better than ever and Katie has written to us with an update:
"I walked into the dog area at the BC SPCA Victoria Community Animal Centre on a warm July day, not intending on applying for a dog.
That's when I saw a little ball of chocolate laying on a blanket in the corner of the kennel. I bent down as she walked over to the door. I instantly felt a connection to her. She had on a little onesie because her skin was rough and patchy.
After about 10 minutes, I figured I would move down the row and keep looking at the other dogs, so she went back to her blanket and laid down. There was a family walking in behind me and they stopped in front of her kennel, but I noticed she didn't move or greet them.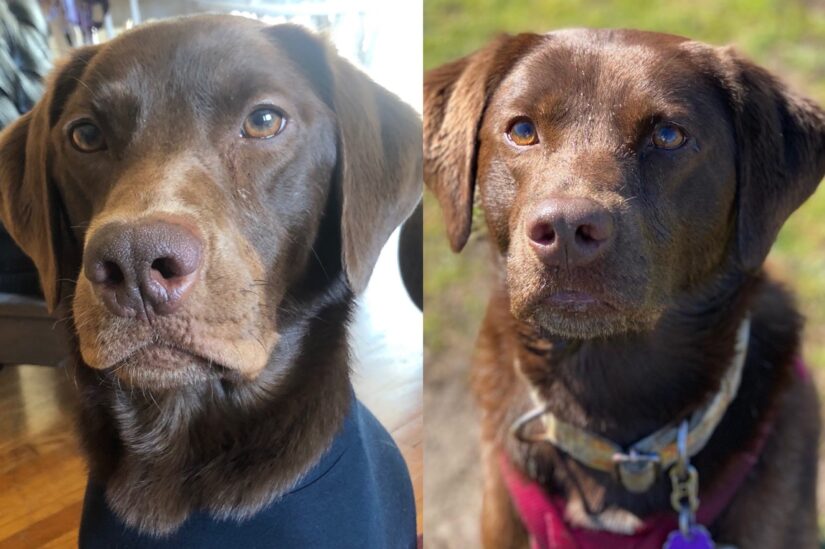 Once they moved on, I went back to see her. Would you believe it—she came right back to the front of the kennel, wagging her tail. That was the moment I knew. I needed more information on this dog.
Sadie hadn't had many applications due to her ongoing health issues and so I put my name in to hopefully get drawn. And I was the lucky winner! I started out as a foster to make sure she was healthy enough and that she would work with my kitty.
In October, we got the all-clear from the vet and we decided to make the relationship official.
Since then, she has been my everything. We found each other at our lowest points and have grown so much together.
Sadie loves playing fetch and chewing on sticks. She cuddles on the couch with me and watches Netflix and Disney shows. Sadie and her cat brother have the best relationship—emphasis on the brother-sister relationship. She started as a shrivelled-up ball of chocolate and blossomed into a beautiful fluffy chocolate mousse.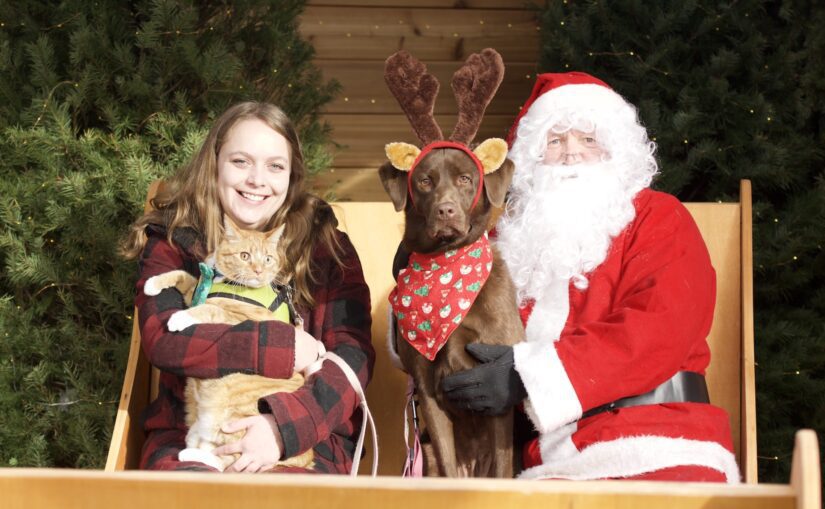 Sadie still has her moments of gastrointestinal issues and she has the cutest little bald patch on her back from when her skin was bad, but that doesn't stop her from rolling around on the grass and making me laugh every single day.
Sadie has changed my life for the better and I can't imagine my life without her."
Thank you, Katie, for adopting Sadie at a time when she needed you the most. You have truly been her shining light throughout such a rough time in her life and we are thrilled to hear she has provided the same support for you. We are tremendously grateful that you two found each other. We wish you many more happy years creating wonderful memories together.
Have you adopted an animal from the BC SPCA and want to share your joy with others? Submit your adoption story!
Resources for dog guardians
How do I welcome a new dog home?
Tips for 5 common dog training challenges