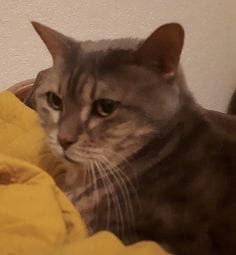 Between July and October of 2017, Claudia,  a 11-year-old, blue cream Torbie, had been shuffled from one home to another, with owners finding she was not a good fit for their household. She finally came into the care of the BC SPCA Victoria Branch on October 31, 2017.
At our shelters, staff and volunteers work together to get to know each animal in their care, so that they can determine just the right fit between a potential adopter and an animal.
This reserved gal needed a calm home where there were no other animals and not a lot of hustle and bustle. After a brief spell in one of our foster homes, where she recovered from dental surgery, Claudia went to her forever home on November 24, 2017.
Here is an update from her new guardians:
Claudia has been an exciting addition to our household.
As a deaf cat, she was definitely a change in how we deal with cats.
She taps our arms to get her pet fix and she loves to eat treats!
Looks like Claudia has finally found someone who understands and appreciates her. Thank you for giving this sweet senior another chance at a forever home and for choosing adoption as your first option. May you share a long and happy companionship.