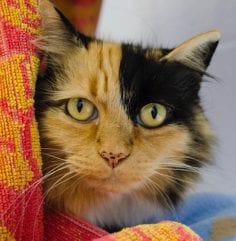 Once an outdoor cat, always an outdoor cat?
Ruby is a lovely tortoiseshell who lived most of her life with several other cats in and around a home in East Vancouver. On August 31, 2017, she was turned in to the BC SPCA Vancouver Branch as a stray.
Initially frightened in the shelter, she quickly showed her true colours and attracted the attention of a visitor looking for a kitty companion. After a checkup and dental work, she was adopted into her new home on September 17, 2017.
Though she spent eight years of her life with access to the outdoors, it sounds like Ruby couldn't be happier with her new arrangement. She's living out her senior years as an indoor cat, with a loving, human companion to provide for her needs.
Here's an update from her new guardian.
Ruby (11 years old) has been such a treat to have around. She is the most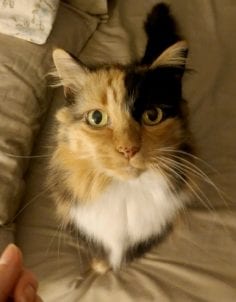 loving, chatty cat I've ever owned.
She has been the best gift to me. Her unconditional love towards me is amazing.
From the moment I wake up to when I go to bed, she's right beside me. She loves to cuddle. She loves to snuggle up on her cat tower and watch me paint.
I can tell she is so thankful to be given a second chance. Thank you for giving me the opportunity to adopt her. She has changed my life.
Trish
And you've changed her life, too, Trish. She now knows what's it like to have a warm, safe home to relax in. Thank you for making adoption your first option and taking Ruby into your life. May you enjoy many more years of happiness together.