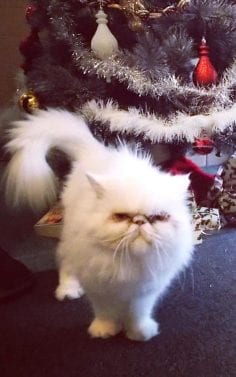 Percy, a white, Persian-cross, young adult male cat, came into the care of the BC SPCA Vancouver Branch on April 3, 2009 when he was surrendered by his former owner.
Percy was in poor health and was put into foster care to give him comfort in what was believed to be his last few weeks of life. However, due to the love of his caregiver, Percy ended up living well into his senior years as a treasured companion. His adoptive father sent us this note in remembrance:
Percy was a rescue cat. He was badly mistreated, prior to being surrendered to the BC SPCA and he was not expected to live long.

The BC SPCA Vancouver Branch asked me to take him home, feed and care for him. That was in 2009, and he actually lived with me and we cared for each other for nine years. He was a perfect friend all those years.
He loved to cuddle and sleep with me, loved sitting on my desk as I worked on my computer. He is very, very missed.
Now I am looking forward to finding another friend at BC SPCA. Hopefully I find the guy I'm looking for.
Thanks BC SPCA, for giving me nine years of pleasure.
We love to hear you say that you "cared for each other." Because it's such an accurate expression of the bond that we share with our companion animals. Thank you for giving Percy so many wonderful years of friendship, we hope that you find another furry friend soon.