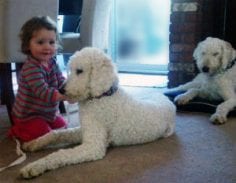 Rosey and Bruno came into the care of the BC SPCA Okanagan/Similkameen Branch on January 31, 2014 as part of a cruelty investigation and seizure. They were held as a breeding pair and had little or no contact with people. As a result of this inhumane treatment, both dogs were initially fearful of people, although Rosey was still keen to play and staff discovered that Bruno loved being petted once he had mustered the courage to get close.
Potential adopters were cautioned that these dogs were going to need a lot of work to socialize, housebreak and manage behavioural issues. Luckily Rosey and Bruno's adoptive family were brave enough to make that commitment and they have written with this update:
Well life will never be the same again…and it's delightful! We intended to adopt Rosey but she and Bruno were so bonded and so lovely together that we couldn't leave him behind.
Two one-year-old standard poodles will make an instant difference to anyone's life. They are both from the seizure at Clearwater and so they don't know much about living in a house, stairs, treats, toys or being a puppy. They had no training, not even names until they got to the BC SPCA Okanagan/Similkameen Branch.
We love learning with them and they are learning fast. It's exciting to see them grow into themselves and watch their personalities emerge as they gain confidence.
We are looking forward to us all getting the basics down and then being able to continue working with these smart, funny and affectionate dogs. I continue to be amazed at their capacity to love and trust after their tough start.
Thank you so much for opening your hearts and home to two challenged dogs in need and for taking the time to share your story. It is comforting to know that after all they have been through, Rosey and Bruno are living happily ever after.