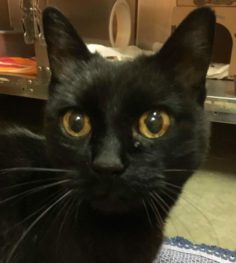 The story of beautiful adult kitty, Raven, points out why we put so much effort into matching each of our adoptable animals with the right family.
Raven first came into the BC SPCA Comox Valley & District Branch as a stray on September 8, 2018. She had been hanging around a local neighbourhood for about a year, but thanks to a Good Samaritan, she was saved from possibly becoming a statistic in BC's pet overpopulation problem.
Raven was adopted within a couple days, however she came back to the branch one month later, as she was not settling into her new home. That move just wasn't meant to be, but thankfully Raven soon found her forever home.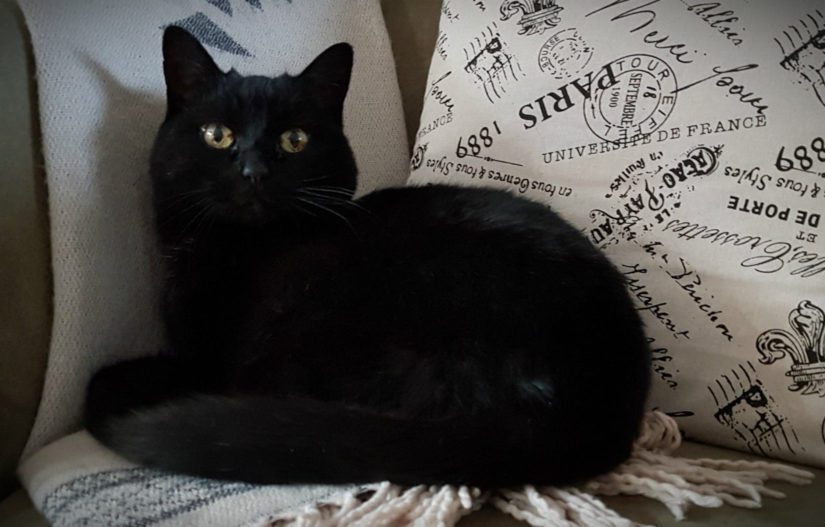 On October 19, 2018, Raven's perfect match showed up to take her home. Here is an update on her first year with her forever family:
Raven was an unexpected addition to our home. We lost our rescue greyhound in May of 2018 and it left a hole in our hearts that we had no idea how to fill.
One evening, during a random search on my phone, l found myself on the BC SPCA website looking at cat photos. I spotted Raven and instantly she melted my heart.
The very next day I went to see her and she came home with me. As soon as I met her I knew she had to be mine.
She has brought so much joy to us. She is loving and cuddly and loves to curl up on your lap. She also has her playful times when she throws her toys up in the air and shows off. She loves to talk and will take belly rubs all day long.
I never thought that my heart would heal after our dog passed away, until Raven came along. She is absolutely perfect.
Raven may have been an unexpected addition, but she sure sounds like she was meant to be in your home.
We're glad Raven has filled the hole in your heart. We trust the feeling is mutual. Thank you for taking the step to love again, and making adoption your first option.
Have you adopted an animal from the BC SPCA and want to share your joy with others? Submit your adoption story!