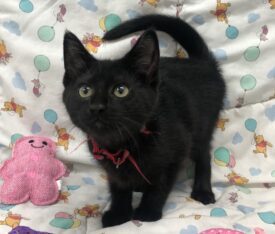 Persephone was found as a very young stray kitten with her mother and siblings before she was brought into the BC SPCA East Kootenay Branch in early June 2020.
Only a few weeks old at the time, Persephone was understandably nervous of her surroundings.
However, it didn't take long for her to come out of her shell. Persephone soon became confident and outgoing, and she adored getting attention.
Once Persephone was old enough to be adopted in July, Lesa came into the shelter. Lesa quickly fell in love, and could tell that Persephone would be the perfect addition to her family.
Only three weeks in, we have received an update from Lesa:
Persephone fits in great around here! My sister also has a young cat—nine-month-old Olivia. Persephone and Olivia were standoffish towards each other at first, but after about a week they have been practically inseparable.
Persephone adjusted super quickly into our little family. Olivia loves her new little sister, and we couldn't be happier.
Persephone is quite talkative, curious, mischievous, playful and cuddly (on her own terms). She has only been with us for about three weeks so far, but my sister and I already love her to death.
I am so thankful to the BC SPCA East Kootenay Branch for uniting me with my new companion and family member.
We are very thankful to you, Lesa, for choosing adoption as your first option. Persephone's charm is truly undeniable, and we're pleased to hear how quickly she has made herself at home. We wish you many more happy years together with your new feline companion.
Have you adopted an animal from the BC SPCA and want to share your joy with others? Submit your adoption story!