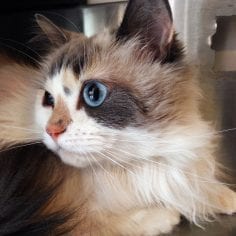 Adara was about four years old when she was surrendered to the BC SPCA East Kootenay Branch in March 2015 because her previous guardian developed allergies to cats. This beautiful, sweet, fickle little cat was looking for a new forever home.
Adara had a quirky personality.
She liked to drink from the tap, hide when she wanted space, and be chatty when she felt like it.
We knew she was looking for a forever guardian who would be willing to take the time to learn and understand her needs and moods, while giving her all the love she deserved.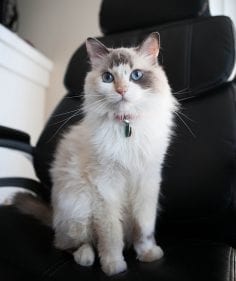 In April 2015, she was transferred to the BC SPCA Richmond Branch where she was adopted a few days later. Her new guardian wrote us this update:
I have always wanted a pet for company and was finally able to get one when I moved out to my own place. I had been struggling with depression for years and was terrified to open up to people and my doctor.
When I visited Adara at the SPCA, interest had dropped for her because she was so shy and refused to come out of her box. The other kitty there was much more friendly and stole all the treats I had set aside for Adara.
But I had fallen in love with Adara because she seemed so much like me.
I brought her home the next day and renamed her Korra for her big blue eyes that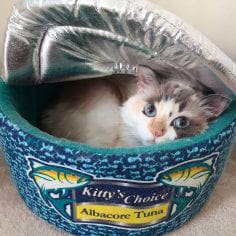 reminded me of a character from a cartoon. I would play the last season on repeat as it followed the protagonist through her struggles with depression.
As my first pet, Korra proved to me that I was capable of not only taking care and loving her, but myself as well. I connected with a lot of people because of Korra, bonding over stories and experiences with our pets.
I was finally able to take a step forward to find help and talk to my doctor, make some changes in my life, and I have been getting better at managing my depression since.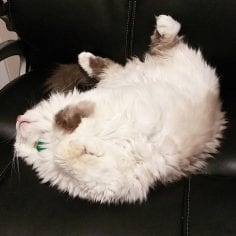 Korra is still a scaredy-cat and not particularly friendly or affectionate. She only likes to receive affection on her own terms and will run if you ask for some cuddles. But if you fall asleep, you might just wake up to a kitty snuggling up with you.
She's aloof, snobby, and the ultimate picky-eater; we like to joke that she's always disgruntled at us. She's soft like an angora rabbit, but is slow to react, and lazy like me.
That is amazing to hear how great you both have been for each other. We are so happy that Korra was such a perfect fit and has found the right forever home where she could have her space and be herself.
We truly appreciate you sharing your happy ending with us and know others will find comfort in your experience. We hope many will also discover or be reminded of how our furry friends can change our lives for the better. Thank you so much for loving Korra and giving her a second chance by deciding to adopt.