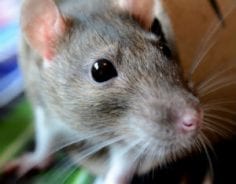 In October 2014 Momma Marge was surrendered into the care of the BC SPCA Richmond Education and Adoption Centre when her previous owners found out that she was pregnant.
After Marge had a litter of six bouncing pups she was adopted out with two of her daughters, Maggie and Lisa. Unfortunately that placement didn't work out and they came back to live at the Centre again.
Happily Lauren came into their life soon after and scooped up this playful little rat family. She has kindly provided this update:
My three new friends, now named Chummy, Trixie and Jenny, are well loved!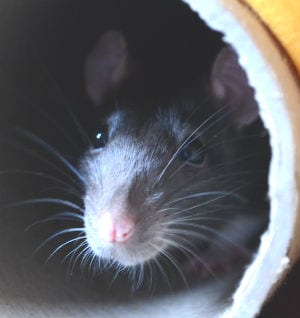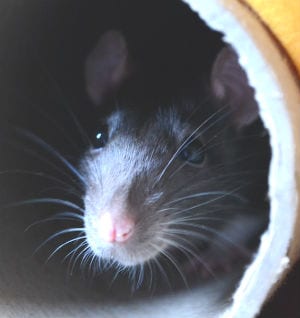 I am so excited to be caring for them and they are excited to have many new places to explore and snacks to try.
Chummy, the mom is the most relaxed and settled in right away, happily riding my shoulder and coming out of the cage to visit.
Jenny is a very busy girl. She loves exploring and hardly ever sits still. Trixie lives up to her name as the trickiest rat of the three. She'll swipe cheerios when you're not looking and vanish into her igloo to munch. She is so fast!
They could all give Dora the Explorer a run for her money, they absolutely must poke their noses into every corner they can and climb anything and everything – including me.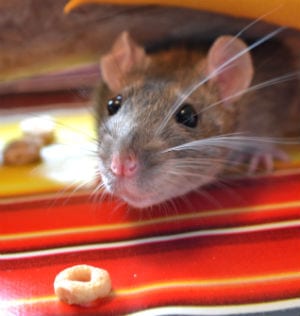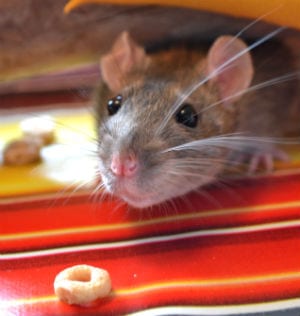 They are all learning to bob for peas (quite a hilarious sight); Chummy is the most persistent and will happily grab and stash pea after pea.
I love greeting these three sweet girls every morning as they jostle by the door of their cage for a snuggle or a treat and I am looking forward to every day I will spend cuddling these cuties!
Thank you so much for making adoption your first option and sharing your home with this lovely trio. We wish you many more fun hours together playing and cuddling.