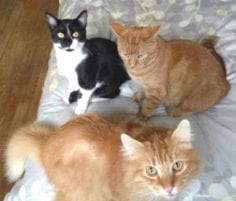 Squeekers came into the care of the BC SPCA Shuswap Branch when she was found as a stray, with a litter of kittens. Almost one year later in March 2012, Pascal came into the care of the BC SPCA Shuswap Branch under sad circumstances as his previous owner suddenly became too ill to care for him.
Pascal was adopted almost immediately and Squeekers soon joined him in the same adoptive family. Their guardian has now shared this update on how they are all doing:
I adopted Pascal in March of 2012 from the BC SPCA Shuswap Branch. I went in knowing I was looking for an orange cat. The girl at the BC SPCA took me into the room with Pascal and some other cats and he was very aloof. As I left the room I looked back through the door and there he was looking back at me.
Now four years later Pascal enjoys sitting in the sunny windows and getting to go outside occasionally to roll in the grass.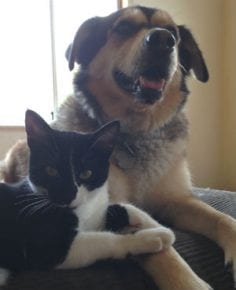 I adopted Squeekers in May of 2012 to give Pascal a friend. And she sure lives up to her name. She is always talking.
Squeekers was a mother cat that had been brought into the BC SPCA with her kittens. The kittens were quickly adopted but Squeekers waited 362 days for me to go in looking for her. Squeekers enjoys sleeping on my bed and cuddling.
Pascal and Squeekers mean the world to me, along with their friend Nikitta the dog who I adopted from the BC SPCA Vernon Branch, and Finnigan my new kitten who I adopted from my sister.
They all get along so well and make my home a happy place to come back to everyday.
How wonderful to hear that both Pascal and Squeekers are thriving in this multi-pet household. We are so thankful to you for making adoption your first option.