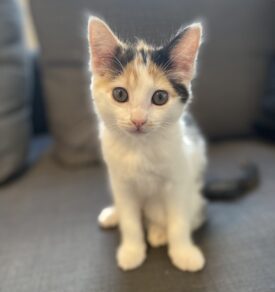 It's no secret that animals have their own unique personalities. One of the most exciting aspects of adopting a kitten can be discovering their peculiar traits.
When Hunter met Pam, a two-month-old sweet Calico kitten at the BC SPCA East Kootenay Branch, Hunter knew she would fit purrfectly into the family and as soon as Pam arrived home with Hunter, it didn't take long to reveal her true quirks & charms.
Here is an update from Hunter on how Pam is settling in to her new life:
When we first brought Pam home, it was a big adjustment for our other cat, Dwight. However, after a few days Dwight's motherly instincts kicked in and she fell in love with Pam.
Pam definitely has a unique personality. The first few nights we had her home we noticed how much she loved to play in her litter box. There was litter everywhere!
We have also noticed that she does not like to walk like most cats. Instead, she glides across the floor by gripping onto the couch and pulling herself along there.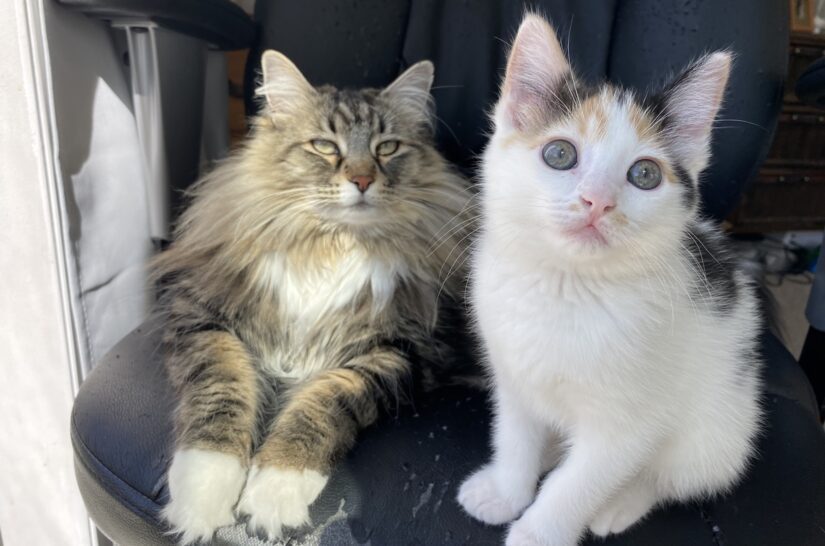 Pam loves getting our attention. Every morning she either tries to climb up my leg in the bathroom or sits at our feet while on the toilet. She hates when we go in the bathroom without her. We always see her paws coming through the bottom of the door if we leave her out.
She has been a great addition to our family. We are so happy Pam and Dwight have already made a lifelong friendship.
Thank you to you and your family, Hunter, for choosing adoption as your first option. There's no denying how absolutely irresistible Pam is, and we are grateful to hear how her personality is flourishing. Between Pam and Dwight, you will surely experience endless antics for years to come.
Have you adopted an animal from the BC SPCA and want to share your joy with others? Submit your adoption story!