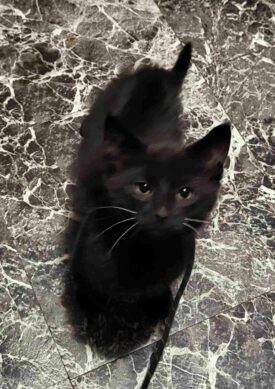 What a cutie this little Pa Gorg is! We don't know much about where he came from but we do know where he ended up–the absolute right home with the absolute right match on April 30, 2023. Read his story here:
"My previous cat passed away from  old age.
I was looking around and saw Pa Gorg on the BC SPCA website and read up on him and fell in love with him right away. I had a cat a long time ago who was the same colour. Staff at the shelter were very helpful in making sure Pa Gorg was the right cat for me.
Pa Gorg was in foster care and he had been around dogs. He loves his cuddles. When I brought him home he was very calm and loved to be held and before I knew it he would fall asleep in my arms.
When he wakes up he really loves playing with his string toy. He also loves his mouse toy and goes crazy with it and with a ball with a bell in it. Every once in a while he plays hide and seek under the bed with the dogs, seeing which one he gets first. They love him a lot."
Sounds like Pa Gorg was the perfect addition to your family. He's so lucky to have found you, someone who lets him be a kitten, doing what kittens love to do, to play and cuddle in a safe and loving home.
Thank you for choosing to adopt and we hope you enjoy many happy years with your new little buddy.
Have you adopted an animal from the BC SPCA and want to share your joy with others? Submit your adoption story!
Resources for cat guardians
How do I know if my cat loves me?