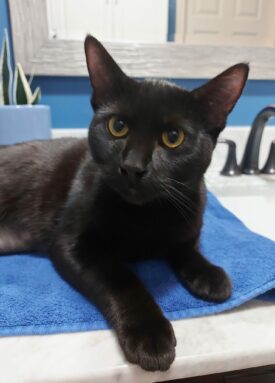 Losing our beloved feline friends is heartbreaking beyond words. Sometimes, it can be too challenging to even think about adopting another cat. There's nothing that can quite fill the void of a long-time companion.
However, it might be worth checking out the local BC SPCA shelter to find out who might make us feel whole again.
Katie was having a difficult time moving on from her cherished cat but, once her family showed interest in adopting another pet, she decided to have a look for herself at the BC SPCA East Kootenay Community Animal Centre in January 2023.
Sure enough, there was Evie, a sweet little black kitty in need of her forever home. It wasn't long before Katie was making the necessary calls.
A couple months in to adopting Evie, Katie has shared an update with us:
"After losing our precious cat Sophie after almost 18 years, we were heartbroken. Our home felt so empty without her. My husband and children were ready to open up their hearts to another cat but I wasn't sure. I reluctantly went to the BC SPCA East Kootenay Community Animal Centre just to check things out.
At first, I was interested in another kitten. He was adorable, of course, but I didn't feel he would be a good fit. The staff brought me to another room with more kittens and there was Evie. The moment I saw her I felt an instant connection.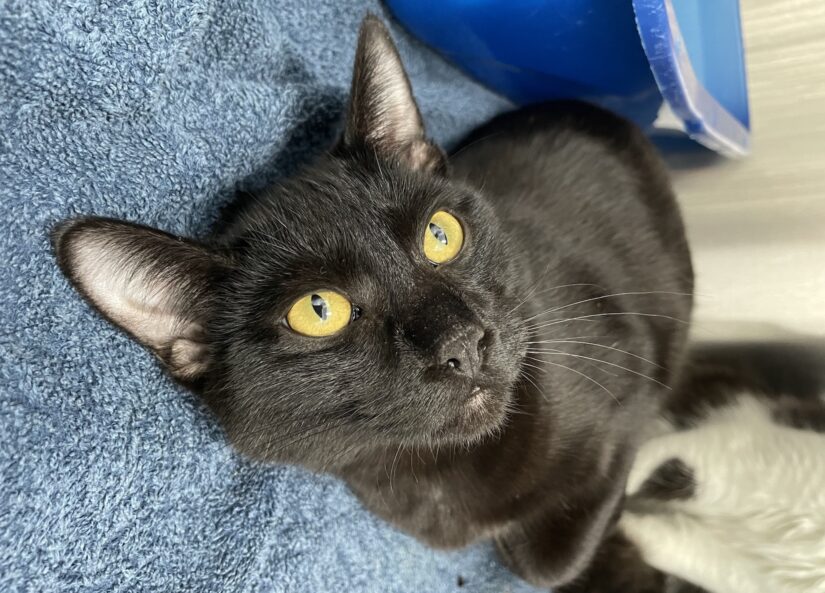 When I looked at her, I saw my Sophie. The resemblance was crazy. I didn't know if it was too strange or maybe it was oddly comforting. Evie instantly started purring when I entered that room, wanting me to pet her. I was able to pick her up and hold her without any hesitation. After just a few minutes with Evie, I was crying and phoning my husband.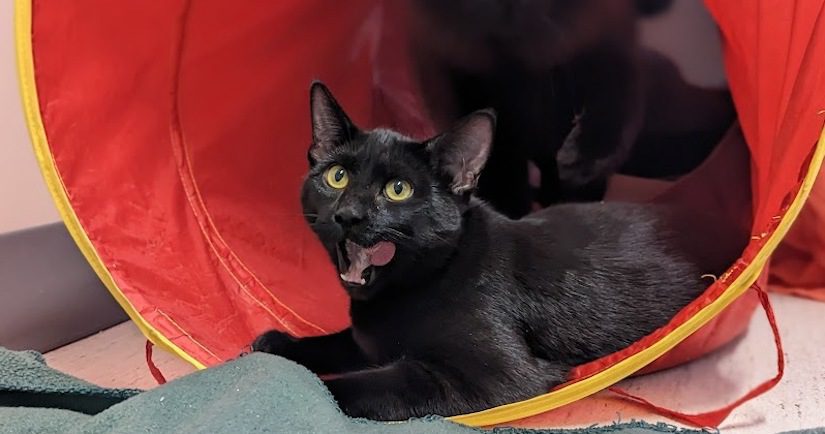 At home, Evie has fit in perfectly even with our 10-year-old dog. It's like she was always meant to be here. Evie has not changed much since I first met her; she is just as sweet but more playful and has more energy. She gets the zoomies every day—sometimes multiple times a day.
Evie is one of the sweetest cats I have ever met. We couldn't be more in love with her."
Thank you to you and your family, Katie, for opening your hearts and home once again to adopt Evie. It sounds like she has settled into her new home wonderfully. We love that she is showing you more of her personality each day. We're thrilled to know that Evie is truly the purrfect fit for your family.
Have you adopted an animal from the BC SPCA and want to share your joy with others? Submit your adoption story!
Resources for cat guardians
How do I know if my cat loves me?