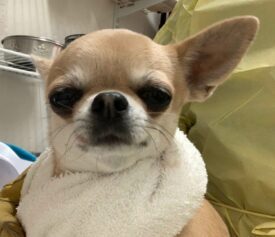 Before reaching the BC SPCA East Kootenay Community Animal Centre, little Sara was kept solely for the purpose of breeding. She had had little experience with affection from humans and never had the opportunity to trust or to learn manners. Her living conditions were far from ideal.
Sara came to us on September 10, 2021 as part of a cruelty investigation. At only one year of age, she was fearful, unkempt and unhealthy. She had her four newborn pups with her.
Sara and babies spent some time in foster care while the babies were weaned and all were spayed or neutered and readied for adoption. When Sara's photo was posted, it wasn't long before her perfect match spotted her and knew she was meant to be his animal companion.
Sara's new forever human was not going to be discouraged by any obstacles and took her home on January 16, 2022. An update follows:
"The moment I saw Sara on the BC SPCA website, I was in love. It was still the pandemic; I would not fly anywhere, except to adopt her.
Once all the arrangements were made and after a frantic week of shopping for dog supplies, I set out for the Nanaimo airport, wearing two face masks and a face shield. I felt ridiculous but I wanted to stay safe.
Sure enough, my flight was cancelled due to fog. I tried again the next day and finally got to Cranbrook.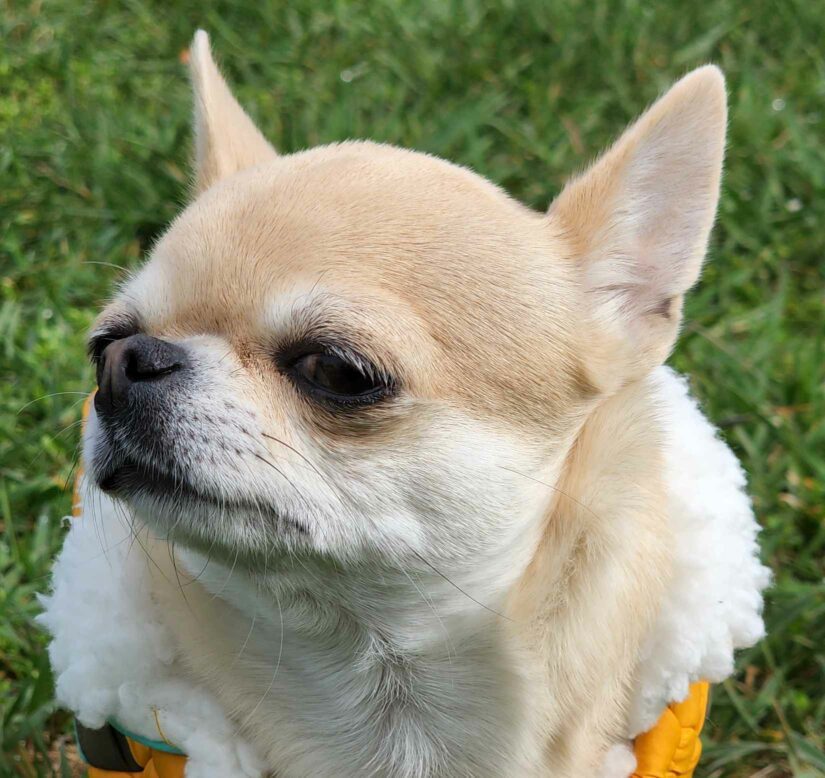 When I got to the BC SPCA office, everything was ready for me, from Sara's microchip, to her papers and even some dog food for me to take home. Although I've cared for a Chihuahua before, I never had a dog of my own and I felt that the BC SPCA staff (both on that day and throughout the following weeks) had prepared me for a lot and supported me throughout the process.
Bringing Sara home was also an ordeal, but even as I became more and more exasperated with the trip back (the flight from Vancouver to Nanaimo circled Nanaimo twice and returned us to Vancouver), Sara remained a perfect little passenger and was very well behaved for the entire duration of the trip.
It's strange to go from being completely on your own to having a furry friend in your life. Now, Sara gives my life meaning and structure. From the routine we've created or going outside in the mornings and throughout the day, to the walks we take in various parks, to Sara simply napping on my lap when I work or when we watch TV, my life has become enriched. Although, I had to do a lot of thinking and preparation (and even soul searching) before the adoption.
Bringing even a small animal into a home is a big responsibility and one begins to fret when she won't eat or poop, as much as one jubilates when she runs and plays.
Sara is a quiet dog. She loves naps and cuddles. However, she also likes to walk outside and walks very well on a leash.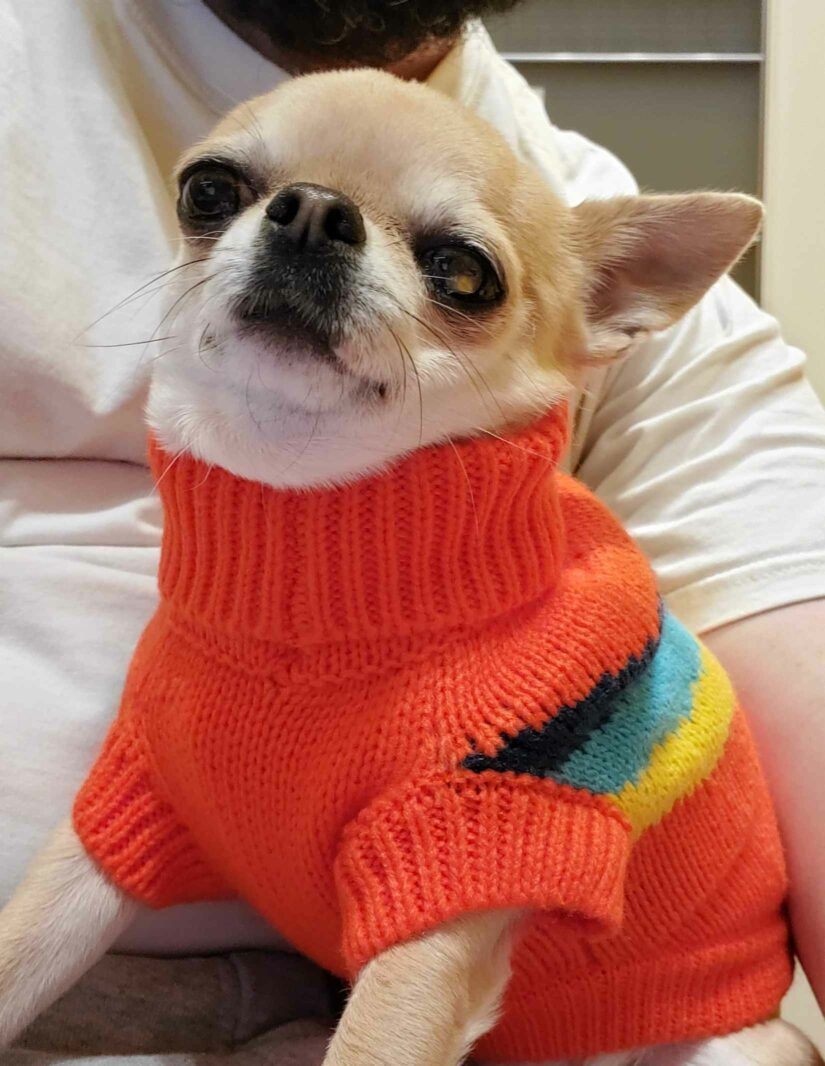 Because she used to belong to a breeder, she is still wary of other animals and people, but she is also curious, follows me when called, and has already learned how to go down the stairs (for such a small dog, this is a big achievement!).
The only challenges we've experienced so far were the couple of times that Sara pooped or peed indoors. However, by encouraging good behaviour when she does her business outside and giving her a lot of patience, Sara seems to have become much better behaved very quickly.
Sara is also a very low-maintenance dog. Whenever I have to clip her nails or give her a bath, she doesn't fight me and doesn't hold grudges afterwards.
Adopting any pet is a big responsibility. Barring any extreme circumstances, you become a parent for this pet for the rest of their life. There are sacrifices to consider: you can't leave a small dog alone at home for more than three hours; when travelling, you must get a dog sitter or find a dog daycare.
However, there are many solutions to these issues. For instance, I found a spinning treat puzzle for Sara (to keep her occupied when she is alone) and I have friends she can stay with on occasion.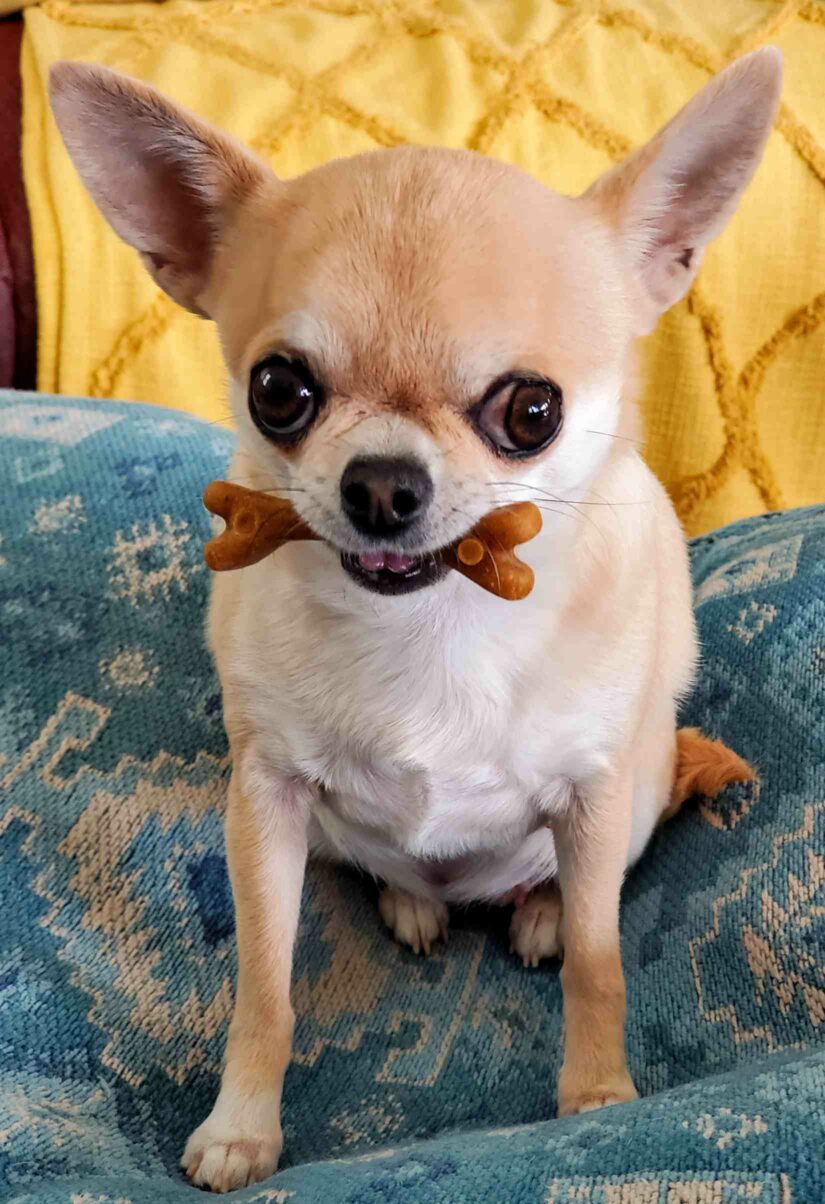 Above all, you must not doubt your love for your pet, even on the hardest of days. If you've put in the research, and gotten the right things for your pet, and given them all the attention and care, even if things don't go as planned, know always that you're trying your best and, even if you don't succeed, you'll do better next time. Good luck!
P.S. Sara has her own Instagram hashtag! Look for #sarachildoflight to follow our adventures."
Your patience and compassion come through in your wise words. It's a decision that requires full commitment and the rewards it brings in return only grow as time passes.
Sara became one lucky girl when you decided to adopt her. May your bond grow stronger with the years.
Have you adopted an animal from the BC SPCA and want to share your joy with others? Submit your adoption story!
Resources for dog guardians
How do I welcome a new dog home?
Tips for 5 common dog training challenges