Chuck Norris came into the care of the BC SPCA Prince Rupert Branch in June 2013, rescued through a BC SPCA cruelty investigation. Fearful and depressed, he needed guardians with a lot of patience and love to give.
Chuck was eventually adopted by his foster guardians – a happy "foster fail" – after they fell in love with him and formed an inseparable bond.
His guardians sent us this update:
I first met Chuck at the shelter when I was a volunteer. Someone had shaved off his furry face so he was the funniest looking dog, but so beyond sad that it was heartbreaking.
We had just lost our senior Newfoundland  dog and had no plans for another dog, but we happened to be at the vet the day Chuck was neutered. My spouse fell in love with him instantly so  we decided to foster Chuck because not one person had shown any interest in him.
His depression was palpable and although several people were eventually interested in adopting him, we found that we had bonded to this funny-looking and stubborn dog to the point that we couldn't imagine life without him.
At first, he was a dog that did not have a clue about being a pet, who had been mistreated, had zero confidence and threw up in my car for 30 days straight. That first day I walked him for four hours, twice! Nothing tired that boy out. The first night, I tried to introduce him to the crate.  I woke up on the floor beside the crate.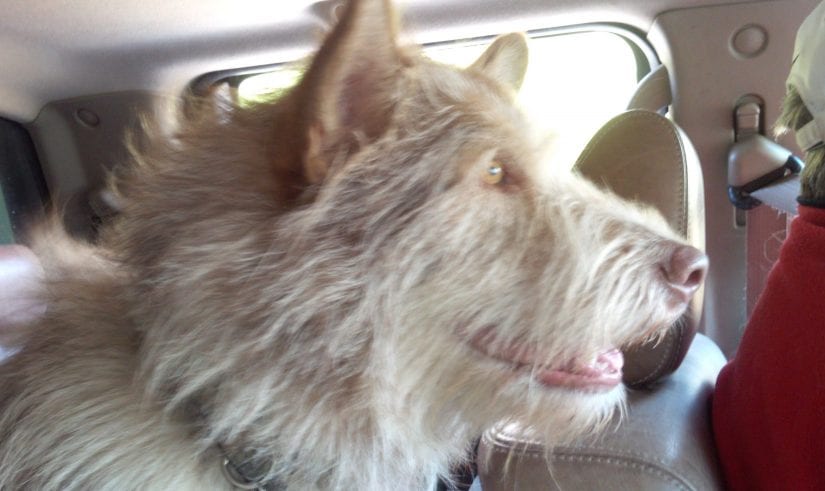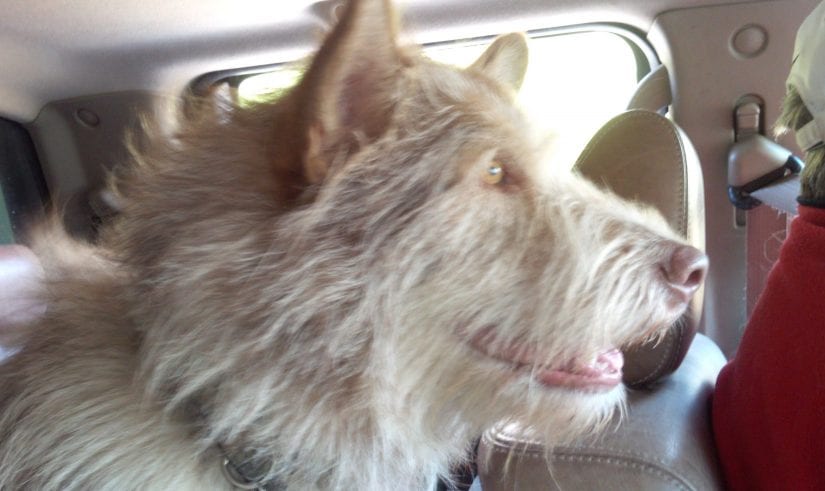 Slowly, he started to enjoy being a dog, with help from our other dogs, a Karelian Bear dog and two Newfoundland dogs.
Chuck attached himself to my spouse. When my partner was battling cancer and had to go away for treatment, Chuck didn't understand and refused to come out of the car so I put him on a long line (supervised) during the day so he could sit in the car with the hatch door up while he watched the lane for my spouse to come home.
At night, I opened car windows (it was winter/spring) and closed the hatch for safety. Chuck had a nice bed inside plus my spouse's fleece, which he balled up and slept on it. Every morning, onto the long line he would go and repeat. Chuck did this for four months and it ripped my heart out.
The day my spouse came home was the day Chuck gave up his vigil. He was so happy that I thought that big tail would fly off! Chuck continues to be my partner's best bud and doubles as a therapy dog.
Four years later – this is a very happy and loving dog who successfully learned how to be a pet. He blended into the pack beautifully and has been a blessing to our entire family, human and four-legged.
Chuck's story is how a chance meeting and opportunity to try and help a sad and dejected dog turned into a blessing of joy and daily laughs. His nick name is Chuckles – he makes us laugh all the time and we cannot imagine life without him.
We are so glad to know that Chuck is doing so well and living such a great life!Thank you so much for making him so happy and for choosing adoption as your first option.