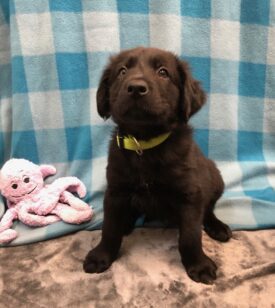 When young Mocha and the rest of his litter came into our care in September 2019, we knew they would easily capture the hearts of potential adopters.
Sure enough, Eileen and her family couldn't resist the charms of this adorable flat-coated retriever puppy. Once he was old enough to be adopted that November, Eileen brought Mocha home from the BC SPCA Kelowna Community Animal Centre.
Now, with Eileen's help, Mocha has written a letter to us with his story to share:
Dear BC SPCA,
I've grown quite a bit since I was adopted and have had many adventures so far.

I love my yard and I diligently protect it from squirrels and quails. I have daily chats with the cows next door but they still cannot bark. I also like playing chase with my best toddler buddy.
I've learned from him that if I don't like what one parent says then I should go to the other and see if the result differs. Sadly, it hasn't worked for either of us yet but we still try.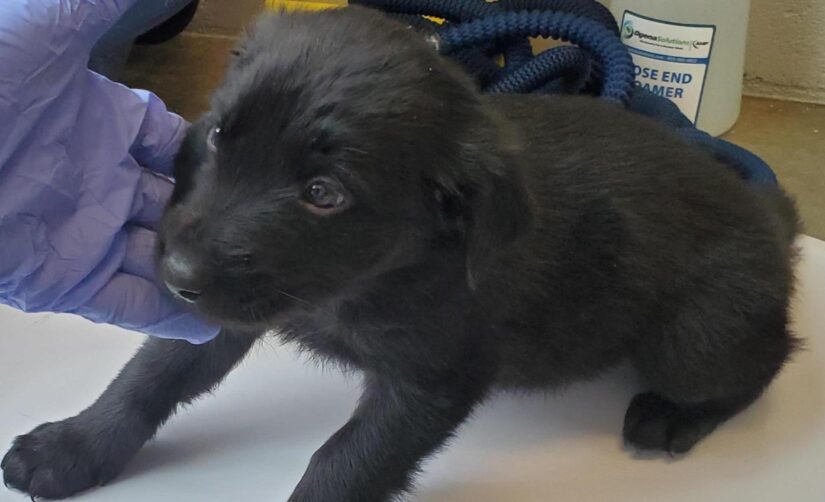 I take my owner to weekly training lessons. I show him how to sit, stay, heel and more things, but he still seems to think I'm the one being trained.
I'm still timid and it takes time for new people to grow on me, but once I know they're amenable to giving me head pats and belly rubs, we become lifelong friends.
Well, I suppose I should sign off and go work on my suntan. I have beautiful red highlights that appear in the summer.
Fur-ever grateful,
Mocha, a very good boy.
Thank you, Eileen, for adopting Mocha and for assisting him in writing his update. We are thrilled to hear how this young pup is thriving in his loving home! Thank you for giving him an environment where he can truly grow up to be his best self. We hope your family enjoys many adventures altogether.
Have you adopted an animal from the BC SPCA and want to share your joy with others? Submit your adoption story!