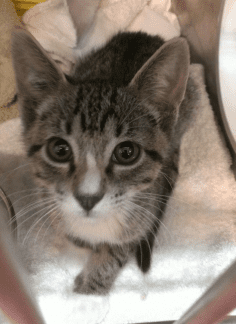 Mitty was only a few weeks old when he was found as a stray and brought to the BC SPCA South Okanagan/Similkameen Branch in the summer of 2014. Even at such a young age, we saw him blossom before our eyes.
Mitty was energetic, outgoing, active, playful and also a sweetheart. We knew he was going to make his future adopter very happy.
When Madeline came to the branch three weeks later, she couldn't help but fall for Mitty, a kitten whose personality was as big as his ears!
Almost four years later, we have received an update from Madeline on her life with Mitty:
I had lost my beloved cat, Sami, and I was so sad. A month later, I decided to drive up to Penticton, from where I live in Princeton, to go to the BC SPCA shelter.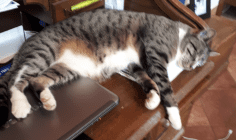 Once there, I adopted this little tabby who was two months old. He had the biggest ears I've ever seen. I was immediately in love.
To this day, Mitty is a big, sweet character and he loves the outdoors. He's a great little hunter. We are a team—just him and me. It is a good life.
Our furry friends bring such joy to our lives. Thank you for making adoption your first option and for bringing Mitty into your life.