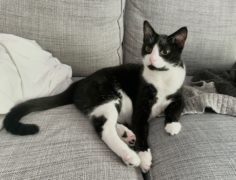 Adopting a cat is a big decision. Like any pet, they become an important part of your family.
Laura and her fiancé had discussed adding a fuzzy family member to their life together for a while. Then, they came across Mia's profile online.
Found as a stray in Prince Rupert, Mia was now at the BC SPCA Vancouver Branch awaiting her forever family to come along. Affectionate, outgoing yet laid back, Mia sounded like the purrfect fit.
In November 2018, Laura and her fiancé brought Mia home. For Laura especially, it was a bit of an adjustment learning how to connect with a cat. But then, slowly and surely, Laura fell in love.
Now, a year later, Laura has sent us their story:
My fiancé and I had talked on and off for a year about adopting a cat. He'd had a cat before but my family only had dogs when I was growing up.
After spending a lot of time thinking about it, I decided to look at the BC SPCA website. I came across Mia's profile and I was instantly interested in meeting her. She was seven months old at the time. The personality description was exactly what we were hoping for.
I forwarded the profile to my fiancé and the next day we stopped by the BC SPCA Vancouver Branch to meet her. She was affectionate and sweet. We immediately fell in love with her. We adopted her the following day.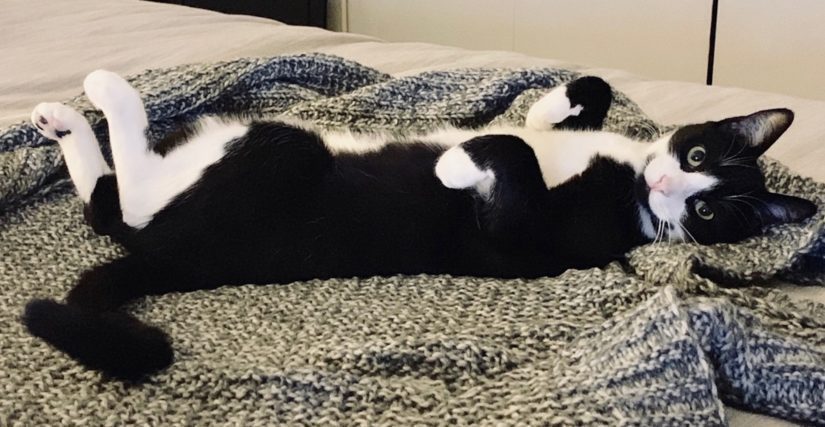 When we brought her home, I felt a whirlwind of emotions. I was always taught that any animal you bring into your home is to be treated as family. As such, they would spend the rest of their days with you. It was your responsibility to do everything in your power to keep it that way.
Was I truly ready for this responsibility? How do you even bond with a cat?
Three weeks after we adopted Mia, my parents and I had to put down our beautiful 16-year-old dog. I was a heartbroken mess. I had been bonded with this animal since I was 15 and I loved our dog dearly.
Meanwhile, in my own home, I had this brand new being I was still trying to connect with. It was tough and emotionally daunting for me.
Over the months I began to learn more and more about cats and their quirks, how they communicated and Mia's personality in general. It was a learning curve, but I eventually started to figure it out.
I began to bond more and more with Mia. My fiancé already had—it just took me a bit longer. Through this experience I was able to pick up the broken pieces of my heart and slowly put them back together in order to give Mia that same love and affection I had shared with my dog.
We feel so fortunate to have been blessed with such a wonderful cat. Adopting Mia was one the best decisions I've ever made. Not only did we give an animal a second chance at life, but she has added so much to our lives as well.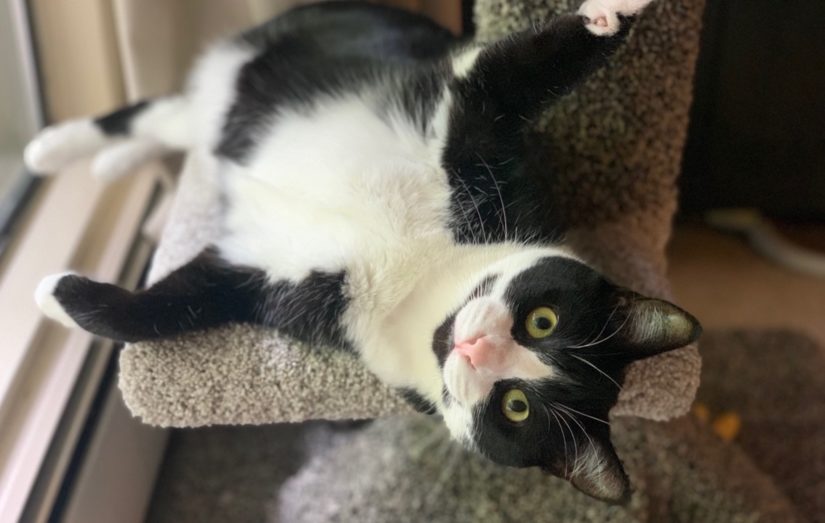 Mia has two large cat posts for scratching and bird watching. She loves when we create blanket huts for her to hide in.
When we adopted her last year we already had our Christmas tree up. Hiding under it was her safe spot. We have the Christmas tree up again this year and Mia loves lying under the tree, looking up at the soft lights. We recently put a tree skirt down, which she thinks is a blanket just for her!
Mia loves to play with soft toy mice. There are several of them floating around the apartment at any given time. She also loves to sleep on us when we are lying on the couch.
Mia is the absolute best cat we could have ever asked for. We are so thankful we found her at BC SPCA Vancouver Branch.
Thank you to you and your fiancé, Laura, for choosing adoption as your first option. It can be challenging to figure out how to bond with a new animal. A true connection doesn't happen overnight—it takes time, patience, effort and a lot of heart to build a relationship. We are so happy that Mia found this with her loving guardians.
Have you adopted an animal from the BC SPCA and want to share your joy with others? Submit your adoption story!