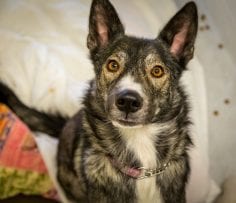 In January 2017, Maya was found in northern British Columbia, pregnant and scavenging around reserves for a source of food. Not long afterwards, we transferred her down to the BC SPCA Kelowna Branch on the Drives for Lives program, to get her more exposure to potential adoptive families.
Here, she quickly showed us just how sweet she really is. We discovered that she loves to play in the snow and joyfully bounds around just like a puppy. Her soulful eyes instantly drew us in. Lucky for Maya, Jessica was on the lookout for a new canine companion to join her family. Jessica only had to receive an email about Maya to know it was meant to be.
We now have an update from Jessica, who tells us how Maya is fitting into their lives: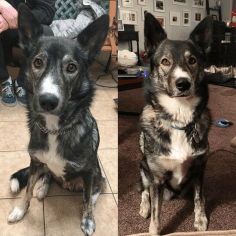 Maya has without a doubt been the perfect addition to our family. We waited a long time to find the 'right' choice. When we got the email about her, I knew she was the one. We were told about her story, found as a scavenger on a reserve up north, expecting a litter.
After nursing the puppies, she was brought down here to the BC SPCA Kelowna Branch. We were unsure of how she would adjust, with her background and how she likes to hide her food instead of eating it. But, when I placed my forehead down by her head, she placed hers on mine. There was no going back.
We brought her home and she acted like she had always lived here. She's happiest cuddling. If you stop petting her, she grabs your hand and pulls it back. She really is happy just being with her people.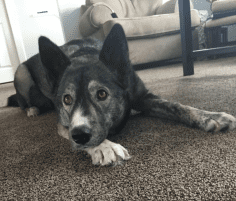 This girl had to have once been a house pet. She came to us fully trained and well behaved. Maya loves sitting on the couch, watching the people outside. Her history with puppies set her up perfectly for when we brought home her 'sister'. We say she's too nice. If our other dog wants a toy she has, she just gives it to her. She loves fetch, but she immediately hands the ball over.
She is the perfect addition to the family, and we are so glad there's a driving program that brought her here.
We are so glad we were able to bring Maya to you and you chose to adopt her! It truly sounds like she finally has the loving family she deserves.