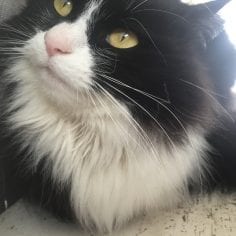 Marsha came to the BC SPCA Nanaimo & District Branch as a stray in April 2016 and after waiting some time for someone to claim her, we put her up for adoption so she could spread joy to her new forever family.
We didn't know much about Marsha's history except that she was about two years old. But after she got over her initial shyness, which didn't take very long, we learned that she was a very sweet and affectionate kitty. She would even roll on her back for tummy rubs sometimes, which is not very common for cats.
We couldn't wait for her new guardians to uncover all the different quirks to her personality and fall in love with her.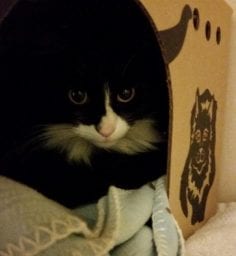 On May 10, 2016, her new guardians adopted her and brought her home. They sent us this update:
I'd been looking at the SPCA website since shortly after my first cat died. At the beginning of May, my husband finally agreed to the family getting another cat.
I saw this picture of an adorable two-year-old female cat named Marsha (now Dancer), whom I fell in love with. I came the next day you were open and found her right away and finished falling in love with her.
She now spends her days curled up beside me when she's not bugging my daughter for food or tormenting our dog. Dancer is so warm and affectionate.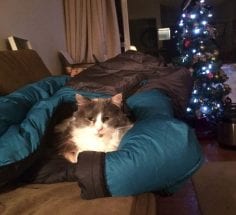 She's transitioned easily to being a strictly indoor cat.
My daughter is learning what is involved in caring for a cat. My son is learning about the love a cat can give.
Her favourite toys are my scrap pieces of fabric from my sewing. I've learned that cats can and do curl up on your lap and can just love being with you. I'm almost always greeted at the front door by her when I get home.
It's great to hear how well Dancer has settled into her forever home and that she can spend lots of quality time with her big, new family with lots of love going around. We're glad you're all able to teach each other so much, which is one of the many amazing things about adoption. Thank you so much for giving Dancer the forever family and home she deserves and choosing adoption as your first option.