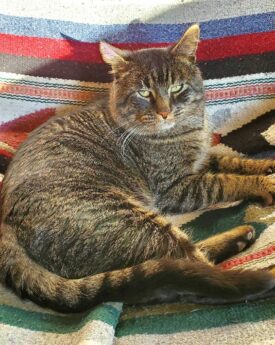 For many of us, a house is simply not a home without a cat.
When Snoop Dogg the cat was found as a stray and brought into the BC SPCA Nanaimo Community Animal Centre, he needed some immediate medical attention. It appeared he had gotten into a fight with a raccoon.
Once he was cleaned up and taken care of, this scrappy little character was ready to charm his future guardians—and he certainly did.
It wasn't long before Kerry and Jenny came along. After seeing what a lovely purrsonality Snoop Dogg had, they were smitten. The day after Valentine's Day in 2022, Kerry and Jenny adopted him and brought him home.
A month into adopting the feline artist formerly known as Snoop Dogg—now BB King—Kerry and Jenny have written to us with an update:
"We saw Snoop Dogg's bio on the BC SPCA website and we were immediately intrigued. We pretty much fell in love with him right away.
He no longer goes by Snoop Dogg; he is now known as BB 'BigBoi' King.
BB is the most loving, talkative, smart, playful and all-around wonderful cat. He has completed our little family.

He gives us kisses and will stand on his hind legs for treats. Actually, we think he'll do anything for a treat.
We are currently training BigBoi to wear a harness. So far it is going well. As mentioned, he's smart, so he's picking it up quickly. We have also discovered that he can hold his own and defend his home—small dogs beware!
We absolutely love our BB and can't imagine life without him."
Thank you, Kerry and Jenny, for choosing adoption as your first option. We love how BB King has already made himself at home and isn't afraid to protect his family when needed. It is evident how much he cares about you both. Thank you for providing such a loving home for BB and for giving him a second chance at living his best life.
Have you adopted an animal from the BC SPCA and want to share your joy with others? Submit your adoption story!
Resources for cat guardians
How do I know if my cat loves me?