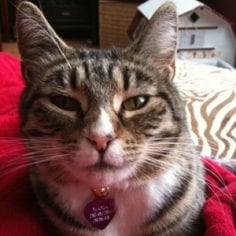 Mama didn't have the most favourable beginning to her life; she was surrendered into the care of the BC SPCA Nelson Branch with five newborn kittens on May 11, 2010. Her name is in part due to the fact that she came in with newborns, but also because of the fantastic care she took of them. Mama was such a natural parent that when two kittens came into the Nelson branch as strays Mama took them in as if they were her own and made sure they received as much attention as she was able to give. It was unfortunate though, as Mama was exceptional at caring for those kittens around her, but did not do so for herself.
Once her kittens were of age to venture out on their own, Mama deteriorated; she was thin and did not want to eat. She was picked up by a wonderful foster parent who helped her gain back most of the weight she had lost, and then he helped her through her recovery period after being spayed and tattooed. Once healthy, Mama was brought back to the shelter in hopes that she would find her forever home, which she did. Mama was adopted on September 25, 2010 and everyone at the shelter said their good-byes to who was undoubtedly one of the favourites.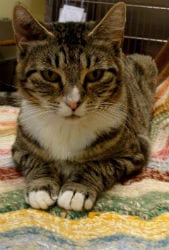 Sadly Mama was surrendered again to the BC SPCA Nelson Branch on January 27, 2011 when her owners had abandoned her and a friend was kind enough to bring her in. Mama didn't adjust very well to being around all the other cats in Nelson's care, so it was decided that she would go into foster care and be adopted out from there. The perfect home became available for Mama when a couple decided they wanted to start volunteering their time with the Nelson branch by becoming foster parents. This home was an excellent place for Mama, there were no other animals and she would be a positive experience for any new foster.
When some time had passed and Mama had still not yet been adopted, it was decided she should come back to the shelter and try her luck there again. This was all it took for her foster family to decide that they wanted to make it official; they were going to adopt her. Ironically Mama is now called Kitten and finally living the life she rightfully deserved. Her caregivers wrote to us to share news of Kitten's new life.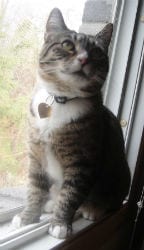 Hi there, here is our happy ending story! In the late spring of last year, we started to foster a little brown tabby named Mama from the Nelson SPCA. She was so sweet, barely meowed and liked to jump all over the bed at night time. We grew to love her so much that when the spca called to ask for her back, we adopted her! We now call her Kitten, because she always acts just like a kitten, though she is going on three years old.
Kittens story was that she had kittens of her own and 'adopted' five more before someone took her to the SPCA. She was skin and bones, and in a few months was back to good health. She has been completely enjoying her life with us.
Kitten moved to Kingston, Ontario with us as we moved here for school and she loves it here just as much! She loves our roomates and isnt shy at all, meowing all the time when she gets really excited (like… CAN I PLEASE GO OUTSIDE NOW?!). She has her own chair and bed in our house and sleeps in the sun. Kitten has made us really happy, we love watching her get into Crazy Cat mode when she runs all over the house playing with her tinkle balls.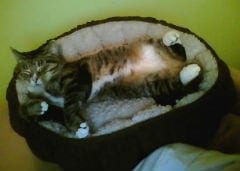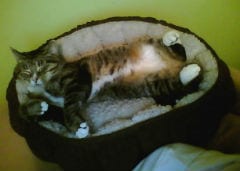 Moving to Ontario was a little challenging as she had to adapt to the humidity that Ontario is famous for at the end of the summer. She also had fleas in waves for almost four months, they are finally gone (which is a relief for both us and her). She is well taken care of by us, and our roomates who feed her and cuddle her just as much as we do. My mom even made and sent her two cat nip toys from B.C. for Christmas! She is doing really well here, and we love her so much.
Thank you BC SPCA for the chance to foster her and thus adopt her. I highly recommend fostering a cat! it turned out well for both her and us 🙂
Emily
Such a fantastic new beginning for Kitten after all the hardships she had endured, it's so nice to hear she was able to make the trip cross country with her adopters. Thank you so much to her fantastic new family for making volunteering and adoption your first option, it's people like yourselves that make our work possible.