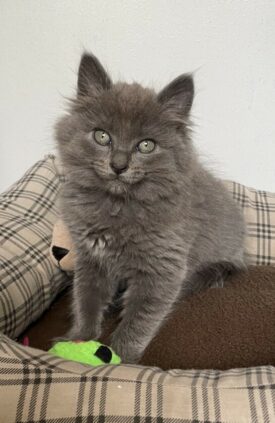 For many felines, it can take some time to adjust to their new surroundings and come out of their shell. However, this certainly wasn't the case for Sam.
Once Rainer and his husband adopted Sam from the BC SPCA Nelson Community Animal Centre in July 2021, it took no time at all for Sam to let his big personality shine.
For those of us who are familiar with cats, we know that cattitude is real. Even for tiny kittens. Not only did Sam immediately start reining over his new kingdom, but he also had his new big canine sister wrapped around his petite paw.
It has now been several months since Sam's adoption, and Rainer has written to us with an update:
"When I saw Sam's profile on the BC SPCA Nelson Community Animal Centre's website, he put a bug in my heart.
As soon as my husband brought Sam home, this two-pound cat took over. From the get-go, he had no respect for our Bernese Mountain Dog and, for some reason, she started mothering him right away.
Sam melted my heart—especially when I caught him lying on top of the dog just three days after coming home. I knew then we had adopted the right cat.
Sam has decided that I am his snuggle-person while my husband is his play-buddy. He provides me with such stress relief when he snuggles on my lap.
I have told the dog to play gently but I've realized that Sam is the instigator. He's the one who attacks the dog and wrestles with her. He even backs up to sit on the dog's head. Never have I seen Sam afraid of the dog.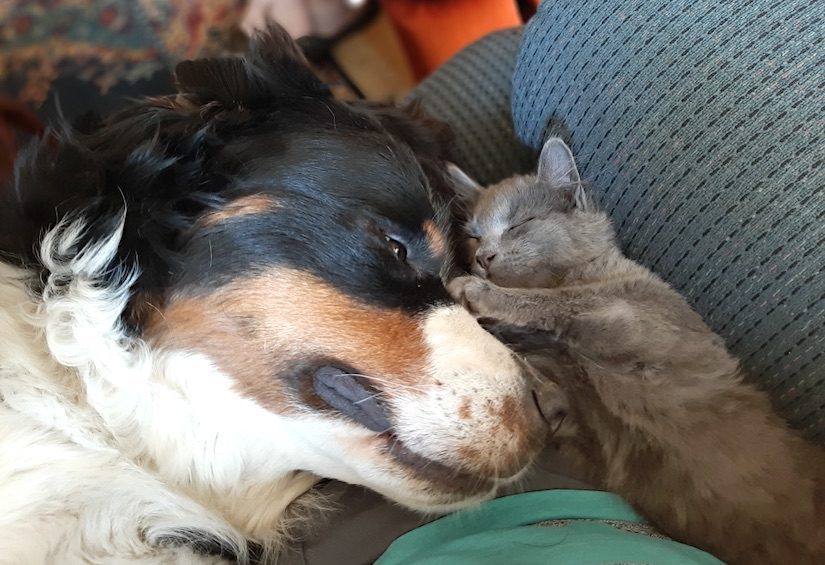 Sam is careful with new people but warms up quickly. His curiosity is the epitome of 'curiosity killed the cat'. He is very smart and learns quickly but also has the typical cattitude —'but I do it anyway!'
He loves drinking water out of the faucet and watches us turn the water on for him. I can see the little wheels turning in his head. We wouldn't be surprised if one day the water runs without our help.
We are so glad we gave Sam his furever home. He'll be turning one year old next month. We love our Sammy."
Thank you to you and your husband, Rainer, for adopting Sam and for providing such a loving home for him. We absolutely adore a strong dog-cat bond and the mix of their personalities is hilarious and incredibly heartwarming. We love that Sam wasn't afraid to be himself from the very start. We wish you many more years creating happy memories together.
Have you adopted an animal from the BC SPCA and want to share your joy with others? Submit your adoption story!
Resources for cat guardians
How do I know if my cat loves me?