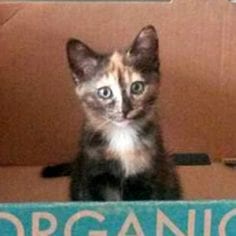 Magnolia was just a tiny kitten when she was surrendered into the care of the BC SPCA Burnaby Branch on March 2, 2016. With her beautiful tortoiseshell colouring and loving temperament, we knew it wouldn't take long for Magnolia to find her forever home but she was too young to be placed just yet.
A BC SPCA volunteer fostered bright-eyed and playful Magnolia until she was old enough to be placed for adoption. It didn't take long for Magnolia's new guardians to find her and fall in love and now two months later, Madison and Matthew have shared this update with us: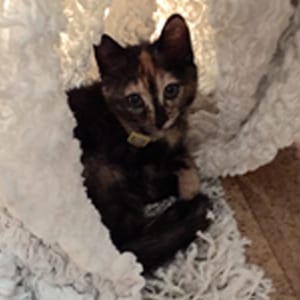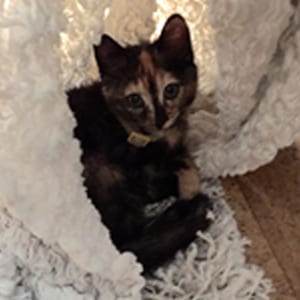 We had been looking for a furry addition to our two-person family for a little while when we stumbled upon Penny (previously known as Magnolia). I have always been a dog person whereas Matthew has always been a cat person. It was actually one of our first text messages to each other, and we were both a little bit disappointed by the response! While we bickered over which animal to get, at the end of the day, we both really just wanted a fur-baby.
When I saw Penny on the BC SPCA website, I knew we had to get to her immediately. I got up from my desk, declared an urgent personal matter, cancelled a meeting at work and drove over to the BC SPCA Burnaby Branch. Luckily for us, she was still there, snuggled up in a bed with two of her siblings. At 11 weeks old, she was quiet but sweet, and I just knew we would get along. It was right then and there that I, a die-hard dog person, had been rehabilitated into a doting cat mom.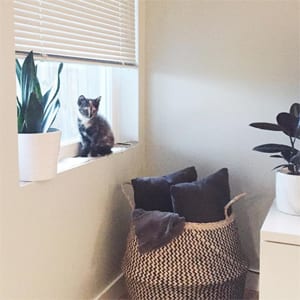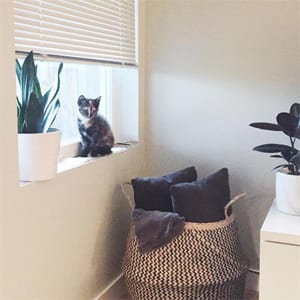 We are obsessed with our little Pen-Pen. She loves to cuddle, look at herself in the mirror, sleep right between our faces in bed, give us high-fives, and play with her teddy bear.
When we first brought her home, we noticed she had a lump on her belly. After taking her to the vet for her free check up (included in the adoption fee), they told us that she might have a hernia. Luckily, it didn't turn out to be a hernia, but there was some internal swelling and inflammation. Penny had to get a small surgery, wear a cone, and take medicine. With Penny being so little, she wasn't very happy to have her new-found freedom quashed by the cone, but we've made it through.
Penny has settled into our lives so comfortably. I think it is safe to say that having her around completes our family. If we had to describe our sweet Penny in five words, they would be: gentle, energetic, quirky, affectionate and oh-so cute. She loves wet paté food, watching the sunset from the "deck" (from behind the glass patio doors), and surveying the backyard from the windowsill.
I can say with confidence that adopting Penny is one of the best decisions we've ever made.
Penny is a very lucky kitten to have found such great pet parents. Thank you for making adoption your first option and for sharing your update with all of us. We miss Penny sincerely, but we couldn't be happier that she is having a great time settling into her new home and acting as a cat embassador to dog lovers everywhere.