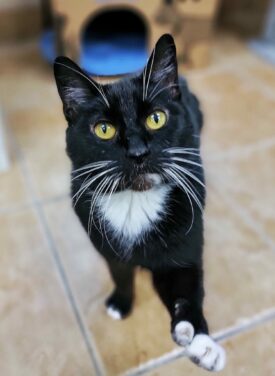 Luna came into our care from a hoarding situation. When she arrived at the BC SPCA Kelowna Community Animal Centre, she warmed right up to our staff and immediately showed us how friendly she was. We knew it wouldn't take long before this delightful kitty found her forever home.
Sure enough, in May 2023, Donna came along and found her purrfect match in Luna.
It has now been a couple months since Donna adopted Luna and she has already shared an update with us:
"Luna has adjusted very well to me and my home. She is so loving, social and talkative.
Luna sleeps on my lap and in her cat bed at the end of my bed. I was amazed at how much she enjoys playing at 10 years old. Her hair is growing back in where she was shaved due to fleas.
One challenge we have is that Luna likes to wake up at 4:00 am, but we're working on that. A 6:00 am start would be better.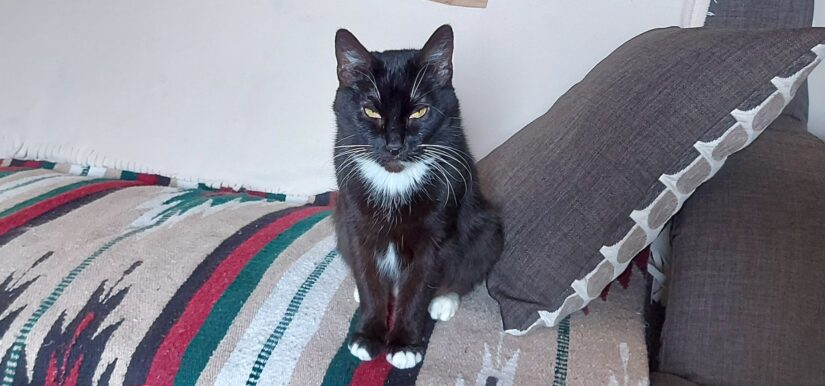 I would advise anyone who is thinking of adoption to go for it. I'm so very happy that I adopted from the BC SPCA. I'm so fortunate to have Luna. We will have many years together.
Luna is exactly the furever companion I'd hoped for."
Thank you, Donna, for choosing adoption as your first option. Luna has such a lovely, friendly demeanour and we're glad to know she is getting all the affection she deserves. Thank you for adopting this sweet senior cat in need of a second chance at life. It warms our hearts to know that Luna has claimed you as her guardian and that she gets to live out her golden years in your loving home.
Have you adopted an animal from the BC SPCA and want to share your joy with others? Submit your adoption story!
Resources for cat guardians
How do I know if my cat loves me?