When Luna first came into the BC SPCA Surrey Education & Adoption Centre Branch in November 2017, she was a spunky little lady looking for a cat-savvy family to share her love with.
While in our care, we learned that Luna liked affection on her terms, but also enjoyed some alone time so she could ponder the wonders of the world. She also loved to play with wand toys, a favourite of ours to bond with our feline friends.
One day, Vivian came to the shelter to meet another pet who was up for adoption at the time, but she quickly bonded with Luna instead! She has now shared an update with us:
I actually went to BC SPCA Surrey Branch to meet Big Foot, but after talking to the wonderful staff there, they matched me up with Luna. Oh boy, was it a perfect match.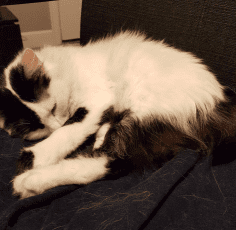 Luna has made going home every day such a joy. I'm always excited to get home to hang out with her. It only took her a few hours to get her to come snuggle with me when I first brought her home.
At first, she had a bit of anxiety when being left alone at home, but she has now become an independent, sassy lady.
She loves to:
– play in the bathtub
– sleep on her human's pajamas
– play with her toy mouse until she loses it under the couch or TV stand
– greet her human every morning with a nice meow and a show of her belly to get a tummy rub
Thank you for choosing to adopt your new best friend. It sounds like you and Luna will share many meaningful years to come.