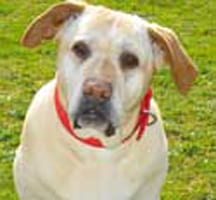 Lucy was surrendered to the BC SPCA on March 31, 2010. A Special Provincial Constable visited the home of her former owner after receiving a report of a dog in distress. When we met Lucy, she had a large mass on her back leg that needed to be removed. Lucy was already ten years old and thankfully, one of the local veterinary clinics agreed to do the surgery for free so Lucy could find a loving home where she could enjoy the rest of her years.
Staff and volunteers remember this sweet girl as a happy, playful and affectionate dog who loved to go for walks. Because she was older, we knew it would be a challenge finding an adoptive family who would be wasn't looking for a young and energetic dog. But, Lucy's outgoing personality was sure to win someone over.
Shortly after Lucy was featured as a Pet on the Net on our website, Ruth and Laura Kreissl inquired about adopting our sweet Lucy. We were thrilled when she went home with the Kreissl family on May 22, 2010. In January 2011, we received an update from Lucy's adoptive family.
We wanted to thank all the staff and volunteers at the Alberni/Clayoquot SPCA for allowing us to adopt the wonderful big lady, Lucy, on May 22, 2010.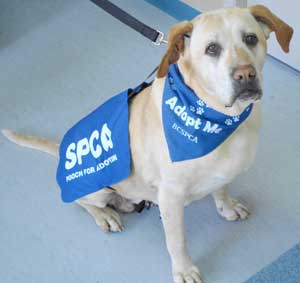 Lucy was a huge Mastiff-Golden Lab X with a heart as big a British Columbia. While some of our neighbors questioned our prudence in adopting such a big girl at first, everyone on Salt Spring Island who met Lucy was soon enamored with the sweet old (11 year) gentle and happy lady.
Lucy loved being a constant companion to Ruth (aged 93) and the two could often be seen walking along the big forested off-leash dog park on the island. While Ruth moved slowly along, Lucy's gait would vary from a slow walk beside Ruth to a spirited trot to happily greet one of Lucy's dozens of doggie buddies (mostly SPCA alumni also) and human friends.
Lucy was especially loved by several members of the community who have physical/and or mental challenges. Lucy was always happy and willing to be available for big hugs and lots of petting. Many of Lucy's children friends described her as having the personality of "Scooby Do", the happy go lucky and very gentle TV character.
As Lucy's guardians, Ruth and Laura Jean, always carried liver treats to encourage her prompt return and reward her for "just being Lucy". Lucy always displayed excellent manners and was a great ambassador for promoting the adoption of older dogs from the SPCA.
When Lucy was not cavorting at the dog park, she was usually sprawled out on the warm carpet throughout her guardian's home, strolling around the big enclosed moutainside yard, enjoying a ride in the family car, or munching down a bit of dinner. Throughout all of this Lucy was getting hugged, petted, and reminded what a treasure she truly was.
In October 2010, Lucy suffered a minor stroke but seemed to recover immediately without any problems. Her veterinarian, who checked her out immediately, said these sometimes happen.  Lucy seemed fine afterward and enjoyed life to the fullest until Sunday December 19, 2010 when she had a grand-mal seizure and had to be humanely put down.
We only had the pleasure of having Lucy with us for 211 days but we were so happy to have made those 211 days the best in Lucy's long life. She brought much joy and we will always treasure her memory.
Ruth and Laura Jean Kreissl
PS. In honor of Lucy we have adopted another old dog, Edith, 11, from the Kamloops SPCA. Thanks again to all the staff and volunteers of the BC SPCA.
On behalf of all the homeless, injured and abused animals in our care, we wish to thank the Kreissl's for opening their hearts and home to Lucy and giving her a second chance to be the happy, loving dog she was meant to be. Lucy, you are truly missed.